Yes, your Caribbean hotel review about a resort or hotel in St. Kitts and Nevis could be the one that helps a first time visitor decide where to stay.
Have you ever used the information published in a Caribbean hotel review to help plan your Caribbean family beach vacation? Well, now it's your turn to tell it all.
Share your accommodation experiences from your stay in St. Kitts and Nevis, whether it was in a St Kitts resort, Nevis hotel or one of the plantation inns scattered throughout the islands. Our site visitors are waiting to read your first hand account of what's hot and what's not when it comes to hotels and resorts in St. Kitts and Nevis.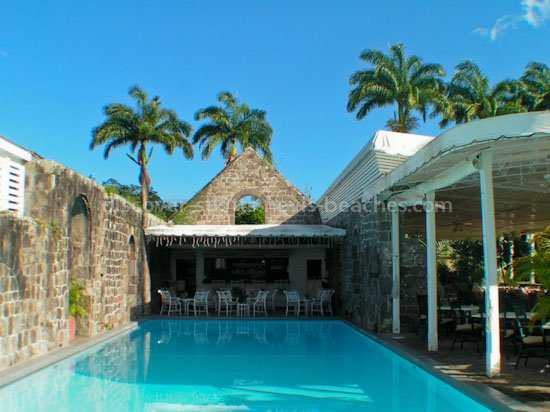 Ottley's Plantation Inn
Search our hotel booking engine for deals on St Kitts and Nevis hotels.
St Kitts Nevis Hotel Reviews
Share your St Kitts Nevis Hotel Experience
Have you had a delightful experience at a St Kitts hotel or a Nevis resort? Share your experience with our site visitors.
Oualie Beach Hotel Review
A visitor from Old Chatham, NY reviews the Oualie Beach Hotel in Nevis.
Nancy's Timothy Beach Resort Review
A visitor from Canada reviews her stay at Timothy Beach Resort.
Chantal's St Kitts Trip Review
A visitor from Ottawa, Canada reviews her trip to St Kitts and her stay at the St. Kitts Marriott Resort.
Review of St Kitts Marriott Resort
A review of the St. Kitts Marriott Resort by Penny, a visitor from Minnesota, USA.
Review of Ocean Terrace Inn, OTI
Nicole, a visitor from Ontario, Canada review the Ocean Terrace Inn.
Trip Reviews from Mark in Maine - Part one of the review is a general trip review while part two is a review of the Angelus Resort.
What's Your Favourite St Kitts Nevis Hotel?
Do you have tips, a story or an interesting review about your favourite St Kitts or Nevis hotel? What are you waiting for? We're waiting for you to share it with us using the form below!
Search our hotel booking engine for deals on St Kitts and Nevis hotels.