The following Caribbean hotel review Marriott St Kitts was submitted by Penny, a visitor from Minnesota, USA. You can read other St Kitts and Nevis reviews or write your own review at our reviews page or on the reviews board at our St Kitts and Nevis travel forum.
The Beautiful Kittitians
by Penny, a visitor from Minnesota, USA
My husband and I just returned from a fabulous 7-night stay at the Marriott. It is a really lovely resort with beautiful grounds and very comfortable rooms. However, it is the delightful staff that make this such a special place. We felt so welcome from the moment that we arrived and found it very hard to say good-bye.
The staff at the Marriott are very proud to work there and they feel fortunate to have good jobs. Tuneero, from guest services, took care of us all along the way. He checked on us every day to see if we needed anything and just to make sure we were having a good time. Beverly, at the front desk, will take good care of your needs when you check in and out. Be sure to check out the cigar bar upstairs - I don't smoke but I'm so glad we stuck out heads in and met the vivacious Valerie. She was so much fun that we stayed and sampled several cognacs from their great selection just to spend time with her. Stop by to visit with Shoy at the fajita bar in the lobby bar. What a charming young man. We learned a lot about the Kittitian culture and life for the young people on the island from Shoy. Shoy even took time to come and see us off at airport on his day off. Amazing!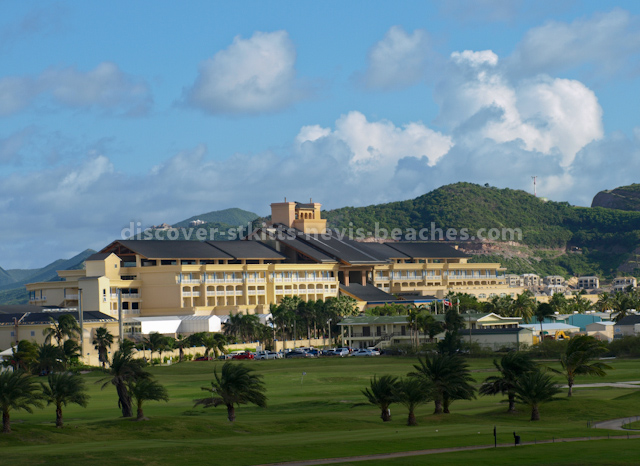 St Kitts Marriott Resort
If you enjoy seafood, stop by Blu and enjoy one of Chef Renzelli's fresh creations. The manager, Donovan, surprised my husband and I with a lovely birthday torte decorated with our names. If you stop in to Blu, please tell Josette hello from the "eating machines." Josette is an excellent server. She is delightful and willing to share much about her home.
Dining outside of the Marriott we enjoyed fabulous food at Island Spice. Chef Lynn is an artist! For a special treat try Marshall's, which is a little more expensive but has lovely ambiance. We didn't get a chance to go to Sprat Net but that is the recommendation of the locals. There are lots of other moderately priced options close to the resort also.
The island tour was good. Negotiate your price upfront as we found it varied from $60 - $120 per couple. A good tour guide is worth it as they will show your more, give you more history and offer good insider tips for your visit. We had great drivers who were always happy and willing to share their beautiful island with us.
If you are a scuba diver, make your arrangements early as the cruise ships book a lot of the dive times in advance. We dove with Kenneth's Dive Center. Ken and Gayle are characters and an asset to the dive industry.
A $32 (round-trip) ride will take you to Turtle Beach. Go before noon to catch the monkeys. They were lots of fun, although they did steal our lunch and tried to get our drinks too. Meet the local celebrity - Wilbert, the giant pig. Say hello Jennifer, she will give you a full aloe massage for $20-$30 dollars. More importantly, enjoy learning more from her about the Kittitian culture and life on the island. If you meet Jennifer or Shermaine (jewellery vendor) let them know you saw their names on the Internet, they will be thrilled.
An $8 taxi ride will take you to the heart of Basseterre. There is shopping (not a lot), banking, and quaint little restaurants there. There is a busy taxi stand to get you back to the resort at the clock tower.
The Kittitian's are gentle, loving and very respectful people. If you go, take a moment to learn a little about their culture. Cursing is a big no-no. In fact, locals have been fined or jailed for cursing at someone. It is considered very disrespectful. Dress is casual but modest. Bare chests and skimpy clothing are not acceptable outside of the beach. A smile and a warm hello go a very long way.
Safe travels and have a wonderful time!