Looking for ideas for family beach vacations or trying to decide on the best family vacation destinations? Before I share my thoughts and suggestions with you, I believe that it would be useful to briefly address some basic considerations?
So what are some of the considerations when planning for family beach vacations? Value for money, location, quality of the beaches, and diversity of activities are some of the main considerations. But since we are talking about family vacations, you will definitely want to ensure that the vacation will cater to all family members. In other words, there must be something for everyone, including activities for adults, but more importantly for the kids. Having activities for all family members contributes to the satisfaction of all, which is key to ensuring that this type of vacation remains a popular vacation type for families.
Pinney's Beach, Nevis,
An Ideal Location for a Family Beach Vacation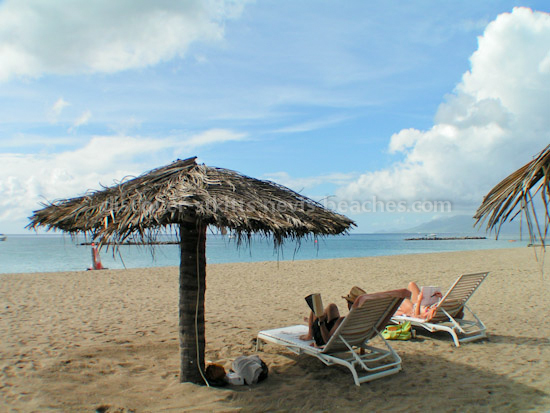 I know that planning vacations is not an easy task. If you feel overwhelmed at the thought of doing it on your own, you should definitely consider seeking assistance from a knowledgeable and experienced travel agent or destination specialist.
Here at discover-stkitts-nevis-beaches.com we have partnered with Liz Pereira of Pereira Tours, St. Kitts. Liz is a former Senior Travel Consultant with Marlin Travel in Toronto, Canada and is a St. Kitts destination expert. I know she will be pleased to assist you with planning family beach vacations on St. Kitts and Nevis. With Liz's help and advice I have no doubt that your stay in St. Kitts and Nevis will be one of your most enjoyable Caribbean beach vacations. Read more about Liz and how you may contact her on my Caribbean vacations page.
If you are considering a Caribbean beach vacation, then you will want to consider the tranquil beaches of St. Kitts and Nevis. To help you decide, at Discover-StKitts-Nevis-Beaches.com we have put together a host of pages about the beaches of St. Kitts and Nevis, plus lots of other great information to help you plan your stay on St. Kitts and Nevis our twin island paradise?
South Frigate Bay Beach in St. Kitts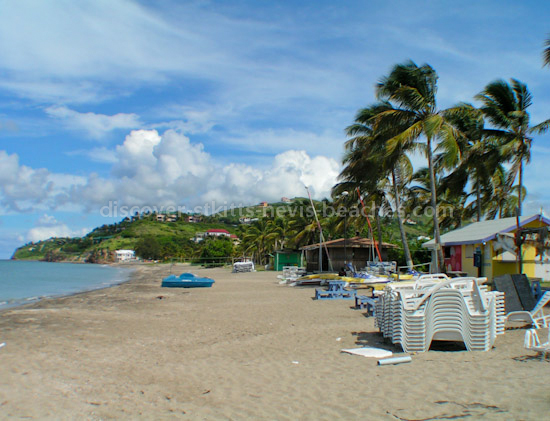 However, if you are looking for other family vacation destinations, a last minute beach vacation, or other types of vacations, do check out the great resources I have listed below.
Trinidad and Tobago Vacations: Amazing Trinidad Vacations
One family's villa vacation adventures in sunny, exciting Trinidad. A personal travel guide that enables visitors to get the most out of Trinidad vacations, and includes local insight into Trinidad and Tobago beaches, Trinidad villas and beach houses, Trinidad Carnival, Trinidad food, romantic beach vacations and much more...
Discover St Maarten. Where Your Perfect Caribbean Vacation Begins
Discover St Maarten, the Caribbean gem. Have a St Martin vacation you'll never forget. The Do's, Dont's and FAQ's are all listed here.
Victoria BC Canada Guide
Victoria British Columbia is one of the loveliest spots on earth to live in or to vacation in. Now, you can get the info you need to plan your own magical time in Victoria BC Canada.
Holidays in Alicante Spain
Tourist guide for planning holidays in Alicante with numerous tips about places to visit, where to eat and how to get around.
Cabo Rojo PR.com
Discover the beautiful pueblo of Cabo Rojo; the place where locals in Puerto Rico prefer to go on their family vacations. Home of the most beautiful beaches in Puerto Rico. Photos of Beaches, Lighthouses, the Plaza, and more. Hotels, Restaurants and a Cabo Rojo Business Directory.
Algarve Beaches
One woman's vacation experiences in the gorgeous Portuguese Algarve. The weather, the beaches and the people are all just wonderful!
Best Family Beach Vacations
Looking for the best family beach vacation? Find out about different destinations, what to pack, how to keep the kids amused and more!.
Excellent Romantic Vacations
A great resource for Romantic Vacations and getaways! Romantic beach vacations, cruises, inns and more. Free Trips and Tips Newsletter!
St Lucia Vacation Guide
Everything you need to enjoy that well deserved Vacation in St Lucia. Get real, essential and comprehensive information from someone who truly knows the island. Hotels, villas and resorts, beaches, car rentals, wedding and more.