Print This Page
About Discover St Kitts Nevis Beaches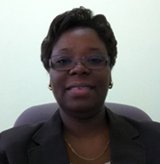 Discover St Kitts Nevis Beaches is a website about St. Kitts and Nevis (beaches, accommodations, attractions, activities, events, photos, travel news and much more) that is published by Amicia Mussenden. It is not the official website of the Federation of St. Kitts and Nevis, the Government of St Kitts and Nevis, or the Tourism Authorities of St Kitts or Nevis. However, we work collaboratively with various tourism stakeholders in St. Kitts and Nevis to promote the tourism product of our beautiful twin island paradise. The focus of the Discover St Kitts Nevis Beaches website is on providing you my site visitors with user friendly, relevant, useful and up to date information for you to use in planning your travel to and stay in St. Kitts and Nevis.
To make my site interactive, I provide a friendly travel forum for you to interact with locals, expatriates, visitors (both first timers as well as repeat visitors) and with the forum moderators and website administrator. The travel forum contains a wealth of information, including a number of trip reports from visitors to St. Kitts and Nevis, and a board to post requests to meet up with other visitors or locals. There is also a board where cruisers can post questions about St. Kitts and Nevis and receive answers from other forum members. You may also send me your questions via e-mail using the form on my contact page.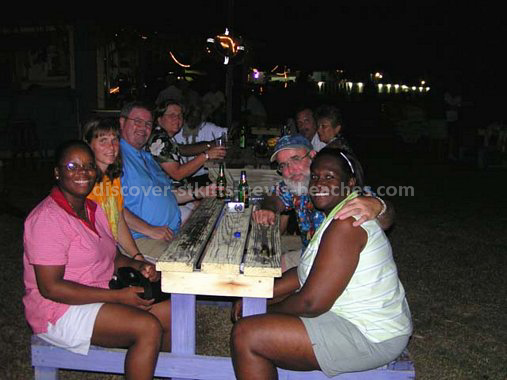 St Kitts Nevis Travel Forum Members at Shiggidy Shack in Frigate Bay
I have also included a number of options for you to interact with me using a variety of social networking tools. For instance at the top of the left navigation bar there are buttons that allow you to like my website on Facebook, follow us on Twitter and Pinterest, and let Google know that you like my site by clicking the Google +1 button. There is also a commenting section at the bottom of each page for you to share your comments about the content on that page and the website as a whole. On some key pages of the website, I also include forms where I invite you to share your reviews of tours, accommodations and your favourite stories and travel photos with me. This information that you share with me will be turned into a separate page on my website so that other visitors to the site can read about your experiences on island. You can also tell you family and your friends about your page so they too can read what you have shared.
Popular pages at discover-stkitts-nevis-beaches.com include the pages about the beaches, traveller reviews, travel and related articles and ATV tours among others.
The website was first published in April 2004, and since then has become an extremely popular site for travel information about St. Kitts and Nevis. The site appears on the first search results page of many major search engines for searches using numerous St. Kitts and Nevis related keywords. The pages are constantly updated and new content is added frequently. New pages are added to respond to your suggestions or based on my assessment of the need for information about a specific area or subject.
My website continues to grow as I add more content and features to the site. Some enhancements planned for the future include the addition of photo albums including an album where you will be able to share your best photos of St. Kitts and Nevis and vote for the photos that you like best; more content pages about tours, restaurants, accommodations, and beach bars; and the launch of the Discover St Kitts Nevis mobile app.
At Discover St Kitts Nevis Beaches, I am extremely excited about the future prospects for our website. I've also recently added interactive St Kitts Nevis virtual tours to the site offering. Thank you for your support in the past and we look forward to your continued future support of Discover St. Kitts Nevis Beaches. Your suggestions, questions and comments are welcome. If you are interested in partnering with us or wish to send feedback, please use the form on the contact us page.
Thank you for visiting Discover St Kitts Nevis Beaches.com.
Amicia Mussenden
Founder/ Owner Discover St Kitts Nevis Beaches Website
About Amicia Mussenden
Amicia Mussenden, Founder and Publisher of the Discover St. Kitts Nevis Beaches website is an economist by training who graduated with a Bsc Economics degree (with First Class Honours) from the University of the West Indies, Cave Hill Campus and a MS Economics Degree from Louisiana State University. She is also an online marketing specialist and virtual tour photographer.