Thinking about getting married in St Kitts Nevis? No problem.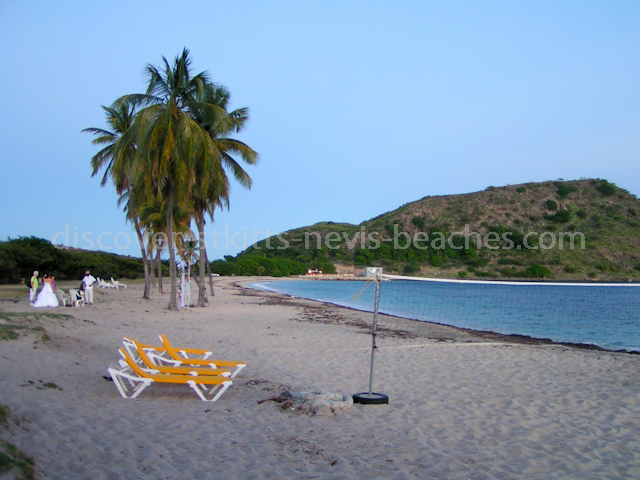 The islands of St Kitts and Nevis are ideal locations for your Caribbean wedding and honeymoon. With a variety of unique venues to choose from, your choice for the perfect setting for your destination wedding ranges from historic churches to exotic plantations, historical parks, exquisite beaches or tropical gardens. And when it comes to your honeymoon you won't be disappointed either. The islands hotels and resorts and romantic plantation inns all have wedding and honeymoon packages that will make your special occasion unforgettable.
Getting married in St Kitts or Nevis is very easy and there is no residency requirement. All that is required is that the couple obtain a marriage license and present the documents outlined in the next section. In order to obtain the marriage license, a Marriage Application form must be completed by the couple and signed in the presence of a Justice of the Peace. A fee for the services of the Justice of the Peace may be assessed. The application form is available from the Legal Department (Tel: 869-467-1010) at Government Headquarters on Church Street, Basseterre. In Nevis, application forms are available at the Legal Department, Administration Building or the Magistrate Court, both of which are located in Charlestown.
Marriage Requirements for St Kitts and Nevis
The following documents are required in order to get married in St Kitts Nevis:
A valid passport or photo identification.
Original or certified copy of Birth Certificate.
Affidavit confirming single status if either intended spouse has never been married. The affadavit can either be obtained from a Notary Public in the home country or on island.
If divorced, a decree absolute (an original or certified copy showing court's stamp or seal) must be presented.
If widowed, a copy of the death certificate of the deceased spouse must be presented.
If documents are not in English, they must be accompanied by a notarized translation.
If either intended spouse is under the age of eighteen (18), a notarized letter granting parental consent is required.
Additional Requirements for Getting Married in St Kitts Nevis: Religious Ceremonies
There are some additional requirements if your plans for getting married in St Kitts include a religious ceremony.
In particular, if the St Kitts or Nevis wedding ceremony is to be performed by a Catholic priest, the couple must receive marriage counselling sessions from their parish priest and submit the required Catholic documents. The couple should also obtain an letter from their resident priest verifying that they are unmarried and that they have received the necessary instructions. It is also important to note that all Catholic weddings take place in the church.
For St Kitts or Nevis wedding ceremonies to be performed by an Anglican or other Minister of Religion, a letter from the couple's resident minister verifying that they are known and unmarried is recommended.
Now that I have shared with you the requirements for getting married in St Kitts Nevis, you are probably wondering how much it costs for a marriage license. The cost of a special marriage license is EC$200 or US$80. However, if the couple is in St Kitts and Nevis for 15 or more days prior to applying for the license, the cost of the license is only EC$50 or US$20.
Getting Married in St Kitts Nevis: Marriage Times
It is important to note that the time when wedding ceremonies in St Kitts and Nevis can be performed differs depending on whether the destination wedding ceremony will be presided over by a Religious Minister or by a Magistrate. St Kitts and Nevis weddings presided over by a religious person can take place anytime between the hours of 6am to 6pm. However, if the Caribbean wedding cermony is to be performed by a Magistrate, the time during which it can be performed is 8am to 6pm.
Are you concerned that getting married in St Kitts Nevis may be difficult because you are trying to do everything from thousands of miles away. No need to worry, help is just a telephone call or e-mail away. Having outlined the simple formalities that must be completed, please rest assured that there are competent providers on island who specialize in wedding planning and helping folks just like you who are planning on getting married in St Kitts Nevis. Believe me, they will take you by the hand and happily to guide you every step of the way. Yes, there are hotels, wedding planners/wedding coordinators, tour operators and destination management companies that will guide you through all the formalities and coordinate all the arrangements for you. So whether it's taking care of the paper work, arranging for the services of a priest/minister or judge, organizing transportation, floral arrangements, catering, venue arrangements, music, wedding photography and videography, your St Kitts Nevis wedding planner or destination wedding coordinator will take care of all this for you, leaving you to just relax and wait for your special St Kitts Nevis wedding day.