We stayed at the Angelus which meets our needs well. We (4 of us) rented an entire 3 room area on the top floor so we had both ocean and golf course views.
Each couple had our own room and the 3rd room with the full kitchen, was our common or living space. Couple number 3 were in another room downstairs. There is a washer / dryer in one room too, which is great as it means that you can travel with very few clothes.
The Angelus does have some quirks, but they can be overlooked, at least by us. When we are on vacation, we try not to look for the problems. If we wanted 4 or 5 star, then we would stay elsewhere. The real inexcuseable situation at the Angelus was that upon arrival, they said that they were full and did not have a place for us. We did have our internet confirmation sheet with us and my wife had spoken with them 3 times before we left.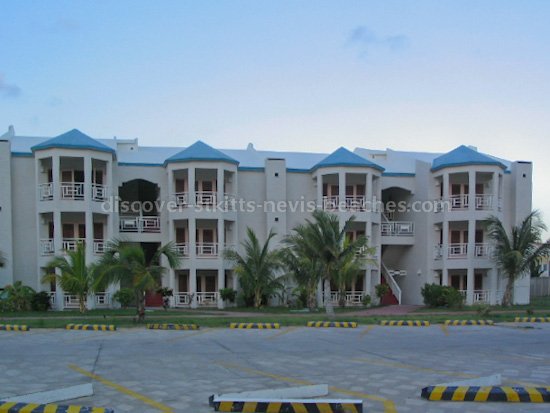 The Angelus Resort, St. Kitts
There is not any multi-tasking at the front desk, but we did get our desired rooms on day two. Reservations for the third couple in our party, who came for week two, did not have a room waiting either, but we got that straightened out before they arrived. Personally I would not be able to recommend the Angelus to others for these and other reasons, but we would stay there again as we know what to expect.
We did hear that the Marriott is nearly booked solid for the season, with only a few rooms available for over 300.00 per night!
Despite early nay-saying about this resort, it has , IMHO, been a very positive addition to the island.
We paid close attention to the staff and service. It is very first rate for the Caribbean and we noticed how much improved and well trained the staff was there.
The golf course had the grand opening of the back nine last week and Tiger was to have been there. My wife did see his parents at the Marriott. It is beautiful!
We did a lot of other regular tourist things that have been written about many times, but I wanted to let you all know that the island is waiting for you and is just how you remembered it. If you have not been to St Kitts/Nevis, go and have fun. You will not be disappointed.
Mark in Maine, November 14, 2004