The following Caribbean hotel review OTI St Kitts was submitted by Nicole, a visitor from Ontario, Canada. You can read other St Kitts and Nevis reviews or write your own review at our reviews page or on the reviews board at our St Kitts and Nevis travel forum.
Ocean Terrace Inn (OTI), Basseterre St. Kitts
"Long Trip Report!"
by Nicole, a visitor from Ontario, Canada
Let me start by saying that I gave this resort three stars. However, in some respects it would almost have been a four. I've stayed at other three-star places that to me should have been a definite four plus. This resort wasn't quite there.
In terms of the dining I think it rates closer to a 4 star, particularly at Waterfalls for dinners. The resort offers very little in the way of extra amenities and no programs or activities on site. The entertainment was pretty much non-existent (except for Friday nights they have a steel drum band near the Waterfalls restaurant, which due to weather didn't get started until later in the evening when my kids were already pushing bed time). We were aware of these things in advance so it was fine for us, however, if keeping busy at the resort is important to you, keep all of this in mind. Signature made mention of a casino shuttle in their brochure, but they didn't in fact offer one. This is the fault of the tour operator and not the OTI. As far as the accommodations and resort itself, a few minor cosmetic changes could push this rating up in my opinion.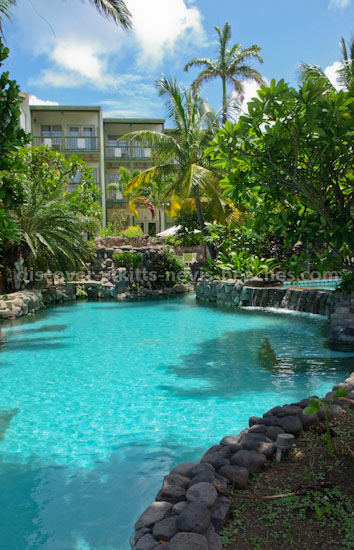 Ocean Terrace Inn
We landed in St. Kitts to rain. And upon arriving at our room we were tired, wet and had just dragged a ton of luggage down several stairs.
First impressions were disappointing. We'd seen pictures of rooms that were beautiful. Due to an unfavourable post I'd read, I confirmed with the staff at Ocean Terrace Inn in advance that all of the rooms were in similar condition. I was assured all the rooms were well kept.
We didn't agree. In fairness to OTI, I'd like to note that some of the disappointment was due to the dismal weather making everything look worse than it was and causing the room to smell a bit musty. However, our room had a kitchenette that wasn't very clean. And because we couldn't forego on the kitchen (severe food allergies), we couldn't be switched to a nicer room they offered us (OTI was kind enough to make the effort).
Our section was the original wing, and the resort had since built on to it. They have freshened up the rooms with bright curtains and bedding which helped, but they were a bit tired looking and were in need of an update. With a good coat of fresh paint and a bit of TLC these rooms could be so much more than they are.
Once we voiced our concerns, they sent in staff to clean thoroughly. And by the next afternoon, we walked into a fresher, cleaner and more comfortable room. With the doors open and sunshine beaming in, we were delighted.
Our rooms were located next to one of the pools, and the view from our patio was beautiful. We later learned that because we needed two adjoining rooms, the resort had been kind enough to accommodate our request and provided a one-bedroom suite vs. a studio with kitchenette because it adjoined the other standard room. We appreciated their consideration. By this time we were much more upbeat about Ocean Terrace.
The food at Waterfalls was a pleasant surprise. We enjoyed our dinners here and only went to the Fisherman's Wharf twice. As Signature had only just started to offer All-Inclusive, there were a couple of hiccups with respect to surcharges. Again, that was resolved quickly enough and we found that by the end of the vacation there was no issue. The staff at Waterfalls deserve a special mention, they were outstanding!
The grounds were beautiful. It's getting a bit older, but the waterfall pool and greenery were stunning. It was a quiet, relaxing place. There was not a lot of entertainment, but it's great for a relaxing family vacation. If you rent a car like we did, you can break up the days with outside excursions. It was nice to check out the Island itself. And because we rented a car for a few days we had a car privilege with the rental company on Nevis so we were able to drive around that Island as well.
A bonus with OTI is the close proximity of the ferry dock (we walked in about 10 minutes with children) so you could get away without renting a car if you wanted to and just stay on the resort and ferry over to Nevis. The town shopping is a bit further of a hike in the heat, we walked to town but with our bags of groceries etc we decided to cab it back. It's probably fine if you choose a time of day that is not as hot, we just waited for the hottest point in the day to go out so it felt like the walk was longer.
Alexis was super helpful and cordial. He was genuinely willing to address our concerns and respond in a way to help make our stay as nice an experience as possible. Most of the staff were excellent, Gladys at Waterfalls and the whole wait staff went above and beyond. The kitchen never refused a request and they really treated us with the hospitality St. Kitts people are known for. Floyd at the front desk was polite and willing to help. On the odd occasion we ran into a staff member who could use some customer service training, however, for the most part we could not complain.
We are avid travellers and enjoy experiencing different Islands. Since learning of my son's food allergies we have become very limited in the way of choices as we need a Kitchenette and like the AI option. Very few places offer both of these features so from that perspective the OTI was perfect for us. This resort gave us comfort, great food, relaxation and most of all peace of mind with my son. Thanks OTI!