The following Timothy Beach Resort review was submitted by Nancy, a visitor from Canada.
St Kitts Trip Review
by Nancy, a visitor from Canada
We returned 10 days ago from a week at Timothy Beach Resort. I'm still on "island time" - that is why I'm just getting around to this review. Timothy Beach is a wonderful place to stay. We have nothing but positive things to say about this resort. The rooms were clean and spacious and everyone had a smile on their face. My only recommendation would be to upgrade to a studio or even an ocean view room. We had a studio and the balcony alone was worth the extra cost.
We saw the other resorts in the Frigate Bay area, the Angelus, the Marriott and the Sugar Bay Club. These resorts are all on the Atlantic which is quite rough. We met several people that were staying at those resorts and they would walk over to Timothy Beach to spend the day on the beach there. The Caribbean side of the island is much better. The beach is great - they apparently got a lot of beach back this year that they had lost in a previous hurricane. The beach isn't long enough for true beach walkers but what is there is superb!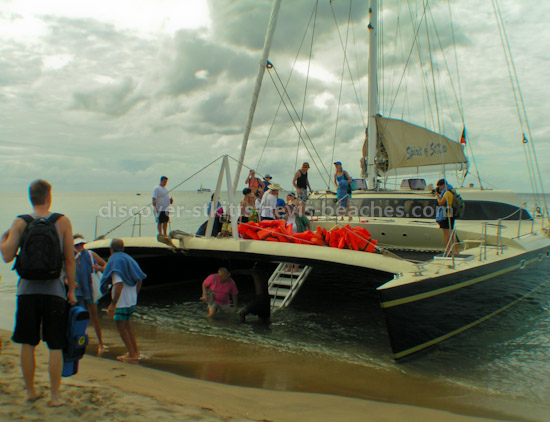 Spirit of St. Kitts catamaran at Pinney's Beach in Nevis
We took the catamaran tour to Nevis on the Spirit of St. Kitts - this is a definite must. It was a great day - from the snorkelling, to the beach barbeque on Nevis to the 4 gentlemen that were running the catamaran. They were a lot of fun and always aiming to please! Nevis is beautiful - on a return trip we will definitely explore it more. We saw Sunshines Beach bar but declined on the famous Killer Bees. Maybe next time!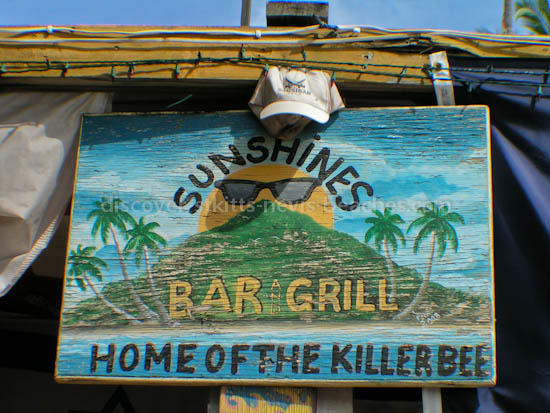 We rented a scooter for a day and went around the island - starting with Turtle Beach and working our way back around the island. We were at Turtle Beach fairly early in the day and did not get a chance to see their famous pig! We stopped at the Golden Lemon Inn, Rawlins Plantation and of course Brimstone Hill. I probably wouldn't recommend the scooter - drivers in St. Kitts (as others have mentioned here) are very aggressive and the scooter just didn't have the power needed for those hills. Try to get to the top of Brimstone with two people on a scooter and you will see what I mean!! But it was an adventure and we survived it - but if you take my advice, opt for the car. Book early for the car - we were not able to get one on short notice.
We also spent a day in Basseterre - ate at the Circus Grill - a really nice restaurant in the centre of town. Did a bit of souvenir shopping but we preferred to be away from the downtown area. We ate at the Monkey Bar (on Timothy Beach), Bobsy's and at the Oasis Sports Bar. We had several meals (and drinks) at the Shiggidy Shack. It was our favourite hangout for the week and Saturday night karaoke was very entertaining. The Shiggidy Shack had great food - ribs and mahi mahi were excellent. We never made it to Sprat Net, we just ran out of time. We had a half day rainforest tour booked, but it was cancelled the night before due to transportation problems. We definitely plan on going back to St. Kitts and would highly recommend Timothy Beach Resort.