St Kitts and Nevis will host 2007 Cricket World Cup (CWC) matches. The announcement of St Kitts and Nevis as a host venue for the 2007 CWC was made in London by the International Cricket Council (ICC).
The following is a press release from the St Kitts and Nevis Information Service (SKNIS):
FEDERATION'S CRICKET WORLD CUP BID PROVES SUCCESSFUL
Basseterre, St. Kitts (July 05, 2004): St. Kitts and Nevis will share the excitement of Cricket World Cup (CWC) 2007 when the historic event is hosted by the West Indies Cricket Board (WICB) for the first time.
The champagne was ready on Monday as government officials and members of the local CWC 2007 Bid committee anxiously awaited the announcement of the eight venues selected to host the matches. The announcement of St. Kitts and Nevis by WICB President Teddy Griffiths came not long after and prompted spontaneous celebration.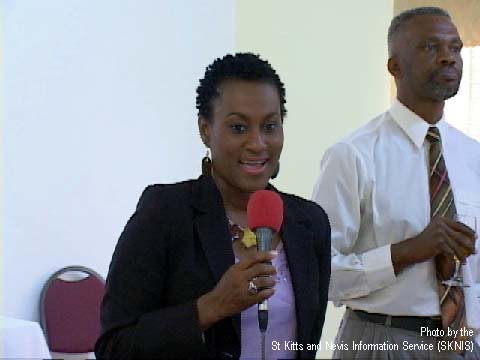 Minister of Sport Hon. Jacinth Henry-Martin expressed pleasure with the ICC decision and said it was a defining moment for herself and all nationals.
"It is a very proud moment," she stressed. "I have no doubt in my mind that Kittitians and Nevisians will deliver a superlative product in the hosting of (Cricket) World Cup Games in 2007."
The minister also thanked the committee, the private sector and others involved for their continued support.
Former West Indies Cricket team manager Ricky Skerritt credited the work of the local Bid committee, headed by chairman Charles Wilkin. "It shows that when the brightest and the best from the public and the private sector get together we can move mountains."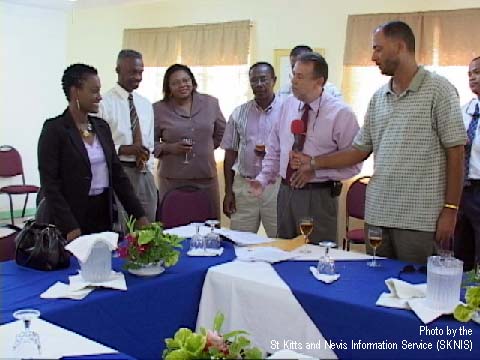 Chairman Wilkin was gracious in accepting the praise, but noted that the process was greatly aided by the government.
"I wish minister to thank you very much for your support, for the support of Cabinet which has been at it's fullest and unqualified," he told Minister Henry-Martin. "While, there were many doubters ... I always felt the strongest confidence of yourself and the Honourable Prime Minister (Dr. Denzil Douglas) and I thank you very much."
He also cautioned that there is still a lot to do as the Board of Directors of World Cup St. Kitts-Nevis Ltd - the new body charged with organizing the games - seeks to meet the particulars of the Bid which is essentially a contract.
Several members of the committee will travel to Jamaica for an Award of Matches ceremony where the details of the package of matches will be outlined.
Related St Kitts Cricket World Cup 2007 Information
St. Kitts and Nevis named as 2007 Cricket World Cup Venue
World Cup St Kitts-Nevis Ltd July 5, 2004 Press Release
St. Kitts and Nevis Offers Incentives For Cricket World Cup 2007 Accommodation
One Day International and Test Match slated for St. Kitts and Nevis in 2006