ST. KITTS GETS READY TO HOST FCCA CONFERENCE & TRADE SHOW, LOCAL PRIVATE SECTOR PARTNERING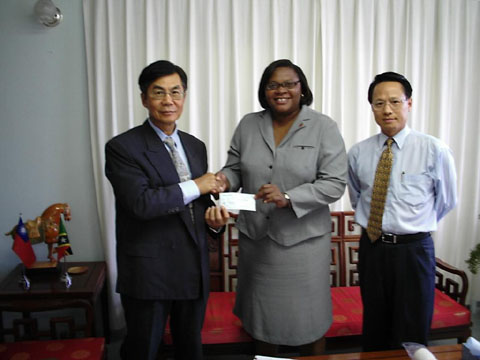 BASSETERRE, ST. KITTS, SEPTEMBER 23RD 2005 (CUOPM) - As St. Kitts gets ready to host its biggest Conference, Chief Executive Officer of the St. Kitts Tourism Authority, Ms. Christine Walwyn said Thursday that the local private sector in St. Kitts is partnering with the Federal Government to ensure the success of the 12th Conference and Trade Show of the Florida Caribbean Cruise Association (FCCA).
The September 27th to 30th event is slated for the St. Kitts Marriott at Frigate Bay and has attracted over 1,000 overseas participants, said to be the biggest FCCA Conference to date.
"It has taken up a lot of our Budget, but I must say thanks to our private sector partners who have so willingly come on board and partner with us in terms of providing sponsorship money, in kind and other ways and we are very grateful. They understand the importance of having this conference," said Walwyn.
She said the large corporations, the small businesses, the taxi drivers, folklore players, persons who are associated and not directly associated are making a contribution to the success of the Conference.
"This is a National event and the entire country is coming together. St. Kitts on a whole will surely benefit," said Walwyn.
For many cruise executives, Caribbean destinations, suppliers and tour operators, the annual October FCCA Caribbean Cruise Conference & Trade Show is the premier industry event of the year to meet with key players, analyze industry trends and discuss current issues. It is because of the unique forum provided by the Conference that over 800 cruise industry partners and 100 cruise executives attend each year.
One highlight is the roundtable discussions, led by an impressive roster of industry experts and guest speakers who are specialists in marketing, sourcing and shore excursions. The Conference represents the spirit of mutual understanding, joint problem solving and increasing the revenue the Caribbean receives from its cruise tourism sector.
The FCCA is a not-for-profit trade organization composed of 13 Member Lines operating more than 100 vessels in Florida, Caribbean and Mexican waters.
Created in 1972, the FCCA's mandate is to provide a forum for discussion on legislation, tourism development, ports, safety, security and other cruise industry issues.
By fostering an understanding of the cruise industry and its operating practices, the FCCA seeks to build cooperative relationships with Caribbean destinations and to develop productive bilateral partnerships with every sector: to create a win-win situation for all.
According to the FCCA Website, the Cruise tourism in the Caribbean continues to grow at a dynamic rate and the FCCA Member Lines are committed to working with their destination partners.
The FCCA works with Governments, ports and all private sector representatives to maximize cruise passenger, cruise line and cruise line employee spending along with working to enhance the destination experience and the amount of cruise passengers returning as long-stay visitors.
The FCCA also provides technical assistance on Port Expansion including input on port and pier design and improvements, as well as on new services being planned for any level of cruise line utilization to maximize the overall project with an eye on keeping costs to a minimum.
Photo: Resident Ambassador of the Republic of China on Taiwan, His Excellency John K. Liu (l) presents monetary contribution to Acting CEO of the St. Kitts Tourism Authority, Ms. Christine Walwyn, while Counsellor, Mr. Franklin Chen looks on. (ROC Embassy Photo)