FIVE CRUISE SHIPS WITH NEARLY 10,000 PASSENGERS VISIT ON WEDNESDAY
CLOSE TO 50,000 SCHEDULED FOR FEBRUARY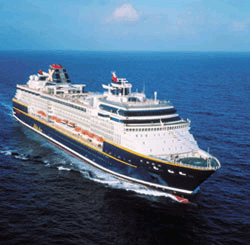 BASSETERRE, ST. KITTS, JANUARY 28TH 2005 (CUOPM) - Cruise tourism enters a new phase in St. Kitts month next week Wednesday when five ships with over 9,500 passengers visit.
According to the cruise ship schedule issued by the St. Christopher Air and Sea Ports Authority, some 18 cruise ships with a passenger capacity of 28,296 passengers are scheduled to visit St. Kitts during the first two weeks of February and 48,109 passengers for that month.
On Wednesday, the majestic 150,000 ton Queen Mary 2 with 2,600 passengers, the 91,000 ton Constellation with 1,950 passengers, the MS Sun Princess with 1,950, the Sun Bird with 1,500 and the Aida Vita with 1,582 passengers will grace the port of Basseterre with approximately 9,500 passengers.
The Queen Mary 2 of the Cunard Line and the MS Constellation of the Celebrity Cruises Lines will dock at Port Zante. The 77,000 ton Sun Princess of Princess Cruises will berth at the Deep Water Port, while the 37,000 ton Sun Bird, formerly the Song of America of the Royal Caribbean Cruise Line, and now of the fleet of Sun Cruises and the Aida Vita of Aida Cruises will anchor in the Basseterre Roadstead.
The Constellation will be on its inaugural visit to St. Kitts on Wednesday and joins other sister ships of the Celebrity Cruises - the Summit, Zenith and Galaxy already visiting St. Kitts.
A brief ceremony to welcome the Constellation on its inaugural visit is planned on board and is expected to be attended by officials from the Ministry of Tourism, the St. Kitts Tourism Authority, Delisle Walwyn & Co. Ltd, the ship's local agents and the captain and crew.
The parade of cruise ships begins on Tuesday 1st with the arrival of the 2,600 passenger Golden Princess; the Queen Mary 2, the Aida Vita, Sun Princess, Constellation and Sun Bird on Wednesday 2nd; the 2020-passenger Empress of the Seas on Thursday 3rd; the 122-passenger Star Clipper and the 60-passenger Sea Cloud on Friday 4th.
Photo of the MS Constellation which will make its inaugural visit to St. Kitts on Wednesday. Photo courtesy of Celebrity Cruises website.
Photos of Cruise Ships in St Kitts and Nevis
View photos of cruise ships in St. Kitts