BASSETERRE, ST. KITTS (DECEMBER 21ST 2004) – History will be made in St. Kitts on Thursday (December 23, 2004) when the Queen Mary 2 (QM2) docks at Port Zante, only one of two ports in the Caribbean, where the world's largest ship can berth.
An official at the St. Christopher Air and Sea Ports Authority said the Queen Mary 2 will dock at Port Zante at 6:00 A.M.
Thursday's visit will the second to St. Kitts by the QM2. It visited St. Kitts in February on its inaugural cruise, signalling a milestone that augurs well for the continued development prospects of the cruise industry in St. Kitts and Nevis.
Several government officials have been invited to visit the ship while it is in port.
Most of the passengers are expected to disembark to enjoy the natural beauty and hospitality of St. Kitts, visit historic sites, bask on the inviting beaches, indulge in the scenic and rainforest tours, partake in a variety shopping and revel in the ambiance and charm of downtown Basseterre.
Hailed as the 'Queen among Queens' of all vessels, it is regaled as the worthy successor to its sister vessels the Queen Mary, Queen Elizabeth and today's Queen Elizabeth 2. The QE2 is to visit St. Kitts next week Thursday December 30th and the Queen Mary 2 on March 13th, 21st and 29th and 6th April.
The magnificent Queen Mary 2 is stylish, grand and has attracted worldwide attention since it is reputed to represent the pinnacle of maritime accomplishment. The QM2 with a passenger capacity of 2,600 and a diverse international crew of 1,400, superb culinary dining options, the first star gazing planetarium at sea, an exclusive Art Collection worth over US$5million, the largest ballroom at sea, royal suites, penthouses, grand salons, four swimming pools, a movie house and top class service to list a few of the many opulent offerings aboard this luxurious leisure liner.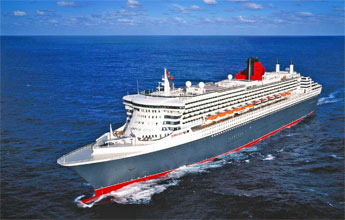 Completed in 1997, the Port Zante berthing facilities were destroyed by hurricane Georges in 1998, rebuilt and again destroyed in 1999 by hurricane Lenny. The berthing facility was re-designed and reconstructed.
Barbados and St. Kitts are said to be the only two ports in the Caribbean that the Queen Mary 2 can dock. It cannot dock in Puerto Rico, the main cruise ship center in the Caribbean, because the waters are not deep enough.
View photos of Queen Mary 2 in St Kitts on December 23, 2004
(Photo by Erasmus Williams)
Photo: Queen Mary 2 at anchor in the Basseterre Roadstead in February 2004 on its maiden cruise