Every beach, bay and small city on the islands of St. Kitts and Nevis have wonderful places to stay. Some of the more popular areas include Basseterre, Frigate Bay, Charlestown, Cades Bay and Dieppe Bay. Places like this have much to offer in the way of luxurious timeshare resorts. Learn more about St Kitts and Nevis timeshare accommodations from SellMyTimeshareNOW.com, and find out if you can save some money while staying on the islands.
St Kitts Marriott Resort
Where to Stay on St. Kitts and Nevis
One of the premier timeshares on St. Kitts is Marriott's St Kitts Beach Club. This wonderful resort is located beachfront in Frigate Bay. Offering two and three bedroom luxury villas, guests enjoy a range on ensuite amenities including private balconies, air conditioning, down feather pillows and comforters, separate bathing tubs and showers, Wi-Fi Internet, spacious dining and living areas, as well as full kitchens complete with all the necessities and stainless steel appliances. Suites even include personal washers and dryers for the convenience of guests.
St Kitts Marriott Resort pool and poolside accommodations
On site guests can enjoy 26 acres of gorgeous landscaping, 3 swimming pools, a casino, a championship golf course, a world-class spa and a variety of restaurants and bars to serve any craving.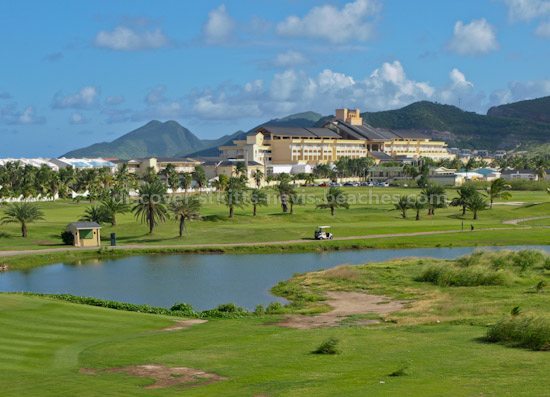 Royal St Kitts Golf Course
St Kitts and Nevis Timeshares
The amenities found at Marriott's St Kitts Beach Club are representative of those typically found at a timeshare resort. Timeshares tend to offer more luxurious amenities than the average hotel, however, the cost to stay in one of these magnificent suites is not as pricey as you might think at first glance.
Although purchasing a timeshare is an option, many people are now renting St Kitts and Nevis timeshares. You can rent through the resort itself, but you can also find St. Kitts and Nevis timeshare rentals from current owners. Renting on the secondary market is often less expensive, because owners are merely trying to cover expenses when they are unable to use their units. The same is true for those who wish to buy timeshare at a resort in St. Kitts Nevis: when existing owners sell a timeshare, you can save anywhere from 25% - 75% off the original price, which is a pretty significant savings.
Is a Timeshare Right for You?
Timeshares are great for families and large groups of travellers as they end up being much less costly and the additional space they provide can make for a much more enjoyable vacation experience. For those seeking plenty of activities and amenities at their resort or hotel, timeshares are also a great option. In addition to Marriott's St Kitts Beach Club mentioned above, other timeshares on the islands include Royal St. Kitts Hotel & Casino and the St. Christopher Club, both located on Frigate Bay. Be sure to check out a variety of St Kitts and Nevis timeshares for sale and rent before making your decision on where to stay.
For those who prefer another type of lodging, be sure to check out other accommodation in St. Kitts Nevis. On both islands there is an abundance of hotels, beach houses, inns and villas to choose from.
Caribbean Timeshares on eBay