INSIDER TIPS ON ST. KITTS
According to Lois Swanson
Just back from a quick trip (2 nights) to St. Kitts. We were in Barbados and wanted to check out what St. Kitts had to offer. You may be familiar with my Barbados Insider Tips. With only one trip to St. Kitts, I'll make an attempt to highlight what we thought of the island.
GETTING THERE:
From Barbados the island is served by frequent flights on LIAT, Caribbean Star and BWIA. From the US either US Airways or American Airlines have good connections from the US to St. Kitts. There is a $22 US departure tax payable in cash or by credit card when leaving the island.
ISLAND FACTS:
St. Kitts is one of the Leeward Islands just north of the Windward group. There are constant tradewinds keeping you comfortable, uncrowded beaches as well as a volcano and rain forest. This island is only 2 miles from its sister island of Nevis (reachable by ferry or air). St. Kitts is a 69 sq. mile volcanic island with golden beaches as well as black sand beaches. Only about 45,000 people inhabit this island that has been independent since 1983, although it has maintained British influences. Its highest peak, Mt. Liamuiga, is a volcano that has been dormant since 1692 and is typically cloud covered. This is a great area for hiking. St. Kitts has a rain forest, and uncrowded beaches. The island has one main road around it - with no traffic lights. I loved that part! Also, the island is home to lots of green monkeys.
Brimstone Hill is the 2nd largest fortress in the Caribbean and one of the best preserved. Basseterre its capital, is a British colonial town that is fashioned around a Circus -- a Victorian roundabout. Carnival is held from Christmas Eve to January 2 each year.
Brimstone Hill Fortress National Park
ISLAND TOURS
We took a couple of tours with different taxi drivers. Our best was with "Bobsy" who was located down the street from the St. Kitts Marriott where we were staying. He was very knowledgeable and gave us a great tour all around the island for $60 US. Within the Marriott is Flamboyant Tours and they can book various tours on the island for you also.
PLANTATIONS AND ESTATES
Ottley's Plantation - we had a delicious lunch at this former sugar plantation and later toured some of the 35 acres of lush grounds as well as some of the accommodations. The restaurant and a spring-fed pool are nestled in the remaining stone walls of the old sugar factor. The food at lunch was great. One of the owners, Karen, took us on a tour of the plantation after lunch. The rooms are lovely and very private. There are only 24 rooms overall, so you get lots of privacy. Some of the cottages even have their own plunge pools. There is the Mango Orchard Spa at the resort. When I asked about getting to local beaches, Karen told us that each day they shuttle guests to one of 2 beaches they use, shopping in Basseterre and also to the Frigate Bay Golf course by the St. Kitts Marriott - everything is about 15-20 minutes from the plantation. This is certainly someplace I would consider staying on a future trip. Check them out at: http://www.ottleys.com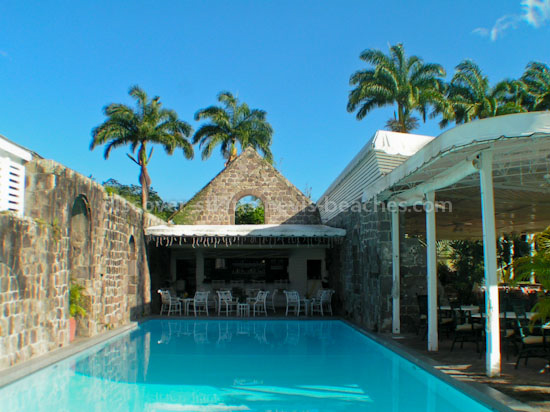 Ottley's Plantation Inn
Romney Manor - We briefly toured this. The history of this manor is that Thomas Jefferson the great grandfather of 3rd president of the U.S.A, was the original owner of the estate. He sold the Wingfield portion which contained the "Red House" to the Earl of Romney.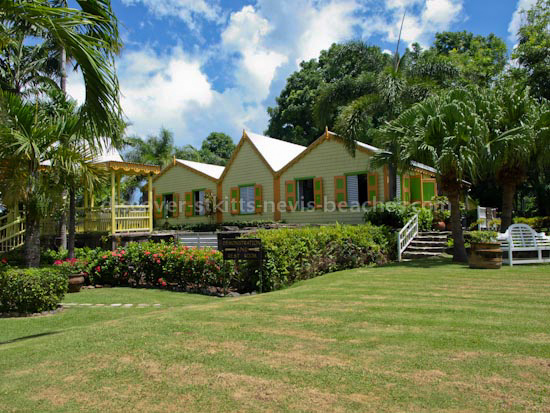 Romney Manor
The Earl of Romney renamed the property "Romney Manor." This name has remained for over 3 centuries. This is also the home for Caribelle Batik - batik is an ancient art form that originated in Indonesia. It is a process of fabric design that uses hot wax and colorful dye to create patterns on the fabric.
Caribelle Batik Shop
ISLAND RESTAURANTS
We were told of several great local places to try, but our short trip did not give us time to do so. Sprat Net had not opened for the season and Mr. X's Shiggedy Shak was only open at night. Also we heard that Marshall's was excellent. This just gives us something to look forward to on a future trip.
ISLAND ACCOMMODATIONS
St. Kitts Marriott Resort and Royal Beach Casino -- this is where we stayed and we thoroughly enjoyed every aspect of this fine resort. This is located on North Frigate Bay (the Atlantic Side), where there is a very wide beach with lots of palapas to shelter yourself from the sun. There is also a protected swimming area. If you want calmer waters, just a 10 minute walk up the road will take you to the Caribbean side of the island (near Timothy Beach Resort), and you can enjoy that as well.
Here is a link to the resort: http://marriott.com/property/propertypage/SKBRB
Resort facts: This is AAA 4 diamond resort that is set on 26 acres of sun-drenched, lush landscaped grounds, with 3 lagoon shaped pools. It has a total of 523 rooms, 113 suites, with 38,000 sq. ft. of total meeting space with 9 meeting rooms, a 15,000 sq. ft. Emerald Mist Spa and Fitness Center -- it has everything you could ever want. This is one of the nicest fitness areas I've seen in the Caribbean. The 18 hole golf course is right there -- the Royal St. Kitts Golf Course, as well as a driving range and a putting green. The resort also has a large teen's game room with all sorts of video games. For the younger set ages 5-12 there is a kids club complete with computers. So there is really something for everyone here.
The main building at the resort - The Frigate Bay House - is 5 stories, with rooms accented in West Indies décor. Our room was located in this building and we had a fantastic view from our very private balcony of the sea in the distance and of the gorgeous pool area and grounds. There are several 3 story high garden house buildings throughout the grounds with 1 and 2 bedroom accommodations. These looked great as you can book a block of these rooms and basically have private accommodations for a group traveling together.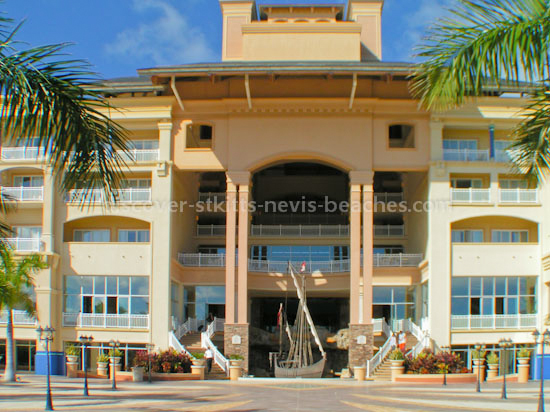 St Kitts Marriott Resort
Our room had a fantastically comfortable king-sized bed with lots of pillows and nice bedding. All rooms are at least 500 sq. ft. A delicious fruit platter and some waters were awaiting us as we arrived. There was a nice marble bar area, and also a nice dressing area with sink. The marble bathroom was very large with Jacuzzi and shower as well as a bidet. Although we were not in our room much, we really enjoyed it.
RESTAURANTS at the Marriott:
Calypso Café - this is open for breakfast, lunch and dinner. We ate there a couple of times and the food was great. You can eat from a buffet or order off the menu. As you approach the café there is an area with gourmet coffees and various confections you can purchase if you want something quick.
La Cucina - is their excellent Northern Italian restaurant. The décor is elegant, and the food was superb.
Royal Grill - for our last evening we ate in this steak and seafood restaurant which is reservation only. Our food was the best and we really enjoyed our last evening in St. Kitts.
Many other restaurants were available at the resort, but we only had time to sample these 3.
ROYAL BEACH CASINO - this is located in the main Frigate Bay House. This glittering casino that even has a blue sky and clouds is one of the Caribbean's largest and most luxurious. They have everything from penny slots to all sorts of gaming tables. I really had a hot streak going at one of the penny machines. Note that throughout the Marriott, everything is in US Dollars (including the casino).
We really enjoyed our stay here and look forward to returning.