I can tell you many reasons why you should plan your St Kitts Adventure with Royston Tours, but first let me first tell you who Royston of Royston Tours is.
Royston Rogers, Owner of Royston Tours
Some of you may have heard about this incredible guy called Royston. In fact, perhaps some or you may have taken a tour with him. If you do not fall into either of these categories, I'm certain that by the time you are through reading this page, you will feel that you know Royston already.
So just who is this Royston guy? Actually his name is Royston Stevens and he is a young, friendly, and easy going chap, (did I mention very athletic...), who hails from the village of Half Way Tree along St Kitts' southern coast. He operates his own tour business offering friendly and personalized guided tours. Some would describe it as a cross between an awesome tour company and a friendly taxi. Whatever the case may be, his mission with Royston Tours is to make friends and not only help people out while on vacation. Hmmm... no wonder he's so well liked.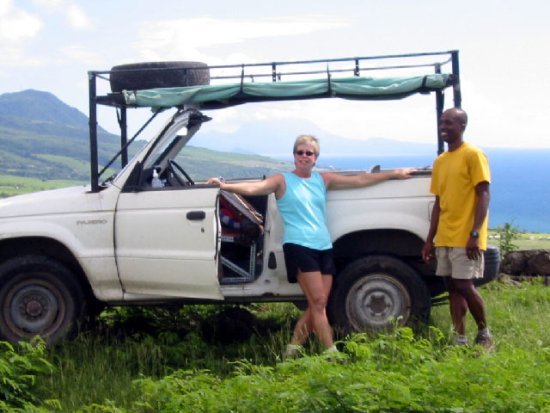 Now that I've told you a bit about Royston, I can now get around to answering why you should plan your St Kitts adventure with Royston Tours. Personally, I can give you many reasons why you should but for now I'll just give you the top three reasons.
Top Three Reasons Why You Should Choose Royston Tours
For Your Next St Kitts Adventure
Royston Tours offers...
small, personalized tours that are customized to your interests.
Royston Tours ensures...
reasonable prices and great value for money.
Royston of Royston Tours is...
a friendly, knowledgeable, dependable and personable guide.
But just don't take my word for it. Read this Up Liamuiga article by Drew Vics and check out the testimonials from some of Royston's clients below and you'll begin to see the full picture... And if you do decide to come to St Kitts, I know you won't regret it if you book a St Kitts adventure with Royston tours.
Customer Testimonials about St Kitts Adventures With Royston Tours
Royston was an excellent guide and we enjoyed his company and sense of humour. The ride between the mountains was incredible and we had a very relaxing time! I will never forget the feeling when we reached the top of the mountain and saw the bright golden sunrays on the Caribbean sea.... with the turquoise water beneath and the surroundings covered in green....
Walda
I have known Royston for over five years and have watched him work very hard to develop a tour guide business that caters to the customer's personal needs. He gives wonderful island tours in his open-air jeep. He can take up to five people, but he is also happy to take just one person on any of his tours or hikes. He is very knowledgeable about St. Kitts history and the varieties of plant life. Royston's tours are very individually geared to what his customers want to do and see. He allows them to take as long as they want at any given site. There is no time frame for each stop so his guests can do as much or as little as they would like. His rain forest hike, his volcano hike and the hike through Bloody Point are also geared to the desires of his guests. You never feel like you have to hurry to keep up with the rest of the group, or if you are very athletic, you are not held back by the group.
I've always loved the idea of having my own private guide instead of dealing with a tour group. When you need to stop to rest, there is no problem. My son and his girlfriend climbed the volcano a few years ago with Royston and they had the best time. It was a tough climb, but they laughed and joked all the way up and down. Royston made them so comfortable and relaxed that they still talk about that day and still consider Royston to be a great friend. Royston also does bike tours around the island but that is a little more than I can handle. He is very professional but also very caring and kind. Everyone who takes Royston's tours not only come back knowing they have had the best tour they could possibly have had, they also come back knowing they have just made a great friend.
Paula Smith
Royston is a friendly, knowledgeable guide. He stops often on the way to and from the volcano hike, to show you the many beautiful views the island affords and to answer your questions or just to talk. The trip to the foot of Mt. Liamuiga is almost as much of an adventure as the hike itself. The ultimate trip up the slopes and cone of the volcano is worth every breath and drop of perspiration, of which Royston expends very little, you'll see. Truly an unforgettable adventure!
Drew Vics
Just returned from St. Kitts Saturday. Utilized the services of Royston, a local individual last Wednesday for the day. I can't say enough about him!!! We saw more and learned more about St. Kitts than any other island we visited on our trip. I would highly recommend him to anyone visiting St. Kitts.
Mary Lou Oman
My daughter and I spent two days driving around with him and it was very enjoyable. He was friendly and informative, his open jeep was a perfect way to view the scenery and enjoy the air, and we had some laughs, too. You'll like him.
Lynn
St. Kitts is one of the few places I would travel to alone. I would suggest you contact Royston Stevens and make arrangements with him to be your guide/escort during your stay. He is a fantastic young man and you will feel and be safe with him. You will also see sights that the regular tours will not take you to. Takes LOTS of film.
Dianne in Houston
I liked Royston immediately upon meeting him. He is very athletic and can customize any type of tour you want. He can take you for a complete island tour, spend the day at the beach snorkelling, shopping, visiting the fort, he knows the island like the back of his hand. He can take you hiking in the rainforest, biking for the novice or the enthusiast, up into the hills or on a volcano tour. You will not find him to be pushy at all. You can customize anything you want, stop when you want or just chill out at some secluded beach. He can show you the Black Rocks, visit Plantation Guest Houses, anything you can imagine.
Something I found very impressive, is that people recognize him and speak very well of him. Older women on the street would say "good morning Mikie" which we learned was his nickname as a young child. People at the beach would tell us how lucky we were to be travelling with him as he is just a great young man. After our time spent with Royston, I agree. He is trustworthy, a safe driver and a real pleasure to be around. He will give you a set price for whatever you want to do and will definitely be less expensive that taxies. If you are the type who wants an air-conditioned minivan, do not call Royston. If you are easygoing and really want to get a feel for the island and the people, I suggest you e-mail Royston 2-3 weeks before you are visiting St. Kitts. If you are lucky enough to spend time with him on the island, you will thank me. If you really enjoy yourself, as I know you will, and if you can afford to, please consider giving him a little extra, he is worth it. It is very important that when you tour with Royston you ask him about the "fish pot stick tree".
Greg Spencer
We spent three days with Royston last week, and enjoyed every minute of it. If you want to have an active trip on St. Kitts, and see as much of the island as possible, give Royston a call. He was also really good with our 9 year old son, which we definitely appreciated.
We went snorkelling at 3 different sites, toured the island, and hiked the volcano. If we had done the volcano hike with a "real" tour group, I'm sure they would have left me half-way. It is a really strenuous climb--it kicked my butt (note however that I'm 40 and don't exercise regularly)! Royston was cool though, so we just kept taking breaks every few minutes, and sure enough, we all made it to the top. It was a fantastic feeling to have actually made the climb, and the view was great.
Debra
Paradise !!! St. Kitts is so beautiful that words cannot describe it's breath-taking appeal! Royston Stevens makes your tour so fun, so relaxing, with wonderful conversation, in depth explanations of the sights, silence (if you prefer), and a sense of true friendship with a VERY GOOD person. Royston's tours are beyond explanation, as his personal stories and deep understanding of nature, make the journey a complete adventure. My memories of St. Kitts go on and on because Royston explains things so well and will take you where you wish to go, personalizing your tour to your wishes. Having lived on the island for his entire life, he knows the culture and answered all my questions so graciously.
Rose Johnson
And here's yet another testimonial from Diane in Houston...
I loved travelling the island in Royston's jeep. It's open and our views were not hindered with windows . We toured Nevis in an air-conditioned van and I MUCH prefer travelling in Royston's jeep. We loved being able to stop anyplace we wanted, stay as long or as short a time as we liked and be on our own schedule. If you want to really see the island, not just the tourist spots , go with Royston. You will not be disappointed. He is charming and knowledgeable and so pleasant to be with. I am certain I have missed sooooooooo much but we had a great trip and we will certainly go back.
Diane in Houston
I can go on and on with testimonials about Royston... but, need I really say more? I don't think so. All that's left now for me to tell you about is the St Kitts adventures with Royston Tours. Royston offers four main tours...
Island Tour: Tour of Basseterre, rain forest, main heritage sites including Romney Manor/Caribelle Batik, Brimstone Hill Fortress, Black Rocks, Southeast Peninsula plus beach time.
Volcano Hike: An exciting hike through the St Kitts rainforest to the rim of the Mt. Liamuiga crater. Spectacular panoramic views await you at the top.
Snorkelling Tour: A tour of three of the best snorkelling spots located on the Southeast Peninsula in St. Kitts.
One great thing about all of Royston's tours is that they can be customized to suit your needs and interests, so they cover what you would like and make sure you see everything you want to see, and a whole lot more. It doesn't matter whether you want to hike up the Bloody River Canyon, explore the flora and fauna of the Wingfield rain forest, hike to the rim of Mount Liamuiga, the dormant volcano, explore the beaches of the Southeast Peninsula and snorkel the surrounding reefs, or just drive around the island taking in heritage sites and attractions, and stop every now and then to check the local watering holes (rum shops). Royston Tours can put together the right St Kitts adventure for you. And remember, he's great with kids too, so no need to worry about whether the kids can come along. They certainly will be welcome.
I bet you are wondering what the cost of these personalized tours are and whether you will be able to afford them. Well no need to worry, because in addition to being personalized, Royston Tours are very affordable. Just check the rates below...
Rates for Personalized St Kitts Adventures with Royston Tours
| Tour | Rates US$ |
| --- | --- |
| Island Tour | $45 |
| Volcano Hike | $80 |
| Snorkelling Tour | $45 |
Please Note - Rates are per person unless otherwise stated. Drinks and snacks or lunch included with all tours.