SEABRIDGE TO LINK ST. KITTS AND NEVIS VIA THE NARROWS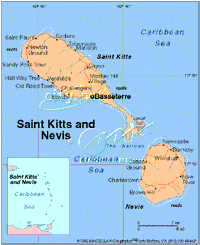 BASSETERRE, ST. KITTS, SEPTEMBER 13TH 2005 (CUOPM) – A new ferry service linking St. Kitts' South East Peninsular and Nevis' Cades Bay, will be officially launched during a ceremony in Charlestown, Nevis on Wednesday afternoon.
Company spokesman, Mr. Rawlinson Isaac, said SeaBridge (St. Kitts-Nevis) Inc. was born out of the desire to improve the transportation link between St. Kitts and Nevis via the narrows, that is, the extreme end of the South East Peninsula, St. Kitts and the Cades Bay coastline, Nevis.
"The SeaBridge transportation service is an alternative to the fixed link bridge, which has been the subject of much discussion for the past five decades," said Isaac, who added that the core service will be the transportation of vehicles at an affordable cost and with the utmost efficiency and convenience.  He added that the distance is approximately 3.6 miles and could be traversed in 15 minutes. Four other ferry operators ply the 11-mile span between Charlestown and Basseterre.
He said that the ferry service will facilitate the labour mobility between the islands, tour expansion for cruise ship visitors, greater support for significant events in St. Kitts or Nevis such as Music Festivals, Carnivals and Culturama; tertiary education and educational lectures.
"The strengthening of family ties, integration of the economic sectors and general expansion for the economies, increase in the volume of trade and greater political and social harmony are also some of the benefits of this new ferry service," said Mr. Isaac.
The local banker indicated that there are some challenges to be surmounted, but he is quite confident that given the support received from the Federal Government of Prime Minister Dr. the Hon. Denzil L. Douglas and the Nevis Island Administration of Premier the Hon. Vance Amory, the service will become a reality shortly.
This ceremony launching the SeaBridge will be held on Wednesday afternoon at 5:00 P.M. at the Hunkins' Plaza Parking Lot on the Charlestown Waterfront.
Officials down to address the ceremony are Deputy Prime Minister of the Federation, the Hon. Sam Condor; Premier of Nevis, the Hon. Vance Amory; Leader of the Opposition in the Nevis Island Assembly, the Hon. Joseph Parry and Governor of the Eastern Caribbean Central Bank, Sir K. Dwight Venner.