PM Douglas turns sod for construction of new US$100 million five-star resort
BASSETERRE, ST. KITTS, FEBRUARY 2ND 2006 (CUOPM) – St. Kitts and Nevis' Prime Minister and Minister of Tourism, the Hon. Dr. Denzil L. Douglas turned the sod Wednesday afternoon to begin construction next week of St. Kitts' newest resort.
Ocean's Edge Resort – a US$100 million five-star resort of 300 rooms to be spread over 40 acres, promises to further enhance the tourism product of St. Kitts and Nevis, Prime Minister Douglas said when he delivered the feature address.
He said that the project comes to the Federation at a time when tourism is poised to play greater importance in the national economy of St. Kitts and Nevis.
"With our exit from sugar production, tourism as a key economic activity has to be assertively nurtured and promoted in such manner that the aspirations for the industry can be successfully achieved," said Prime Minister Douglas, who pointed out that over the past decade his St. Kitts-Nevis Labour Government, which took office in July 1995 "has been assiduously working towards creating an economic environment that supports local and foreign investment capital, an environment that is conducive for business development, and obviously, an environment that supports job creation for all of the people of St. Kitts and Nevis."
Dr. Douglas said that he is proud that the investors in this resort development have seized on the opportunities created by his Government's strategy of infrastructure-led growth and private sector development.
"We are particularly delighted that the project was initiated by local investors, including the St. Kitts-Nevis-Anguilla National Bank, the TDC Group of Companies, the Rams Group of Companies and the Frigate Bay Development Corporation.
"These enterprises, that have operated successfully in our own economy for so many years, have seen the change that my Government has created in this beautiful twin-island Federation of ours. They have come forward in a very positive way to demonstrate support for the new developments in our national economy. They have all sensed the tremendous excitement of the many foreign investors who are prepared to place their trust in the policies of the Government and to put their money in our Federation with the confidence they would obtain very solid returns," said Prime Minister Douglas.
He praised the local investors for joining forces with Newfound, a reputable international company, with an outstanding track record in real estate development and sales.
"This is the model that I would like to promote to more of our own entrepreneurs. I urge our people to join in the action, and begin to create wealth for yourselves. If you do not have all the skills and resources to do so, then do not be afraid to welcome foreign joint-venture partners.  This is our advice and our goals.
"Your Government is behind you and while we welcome foreign investors to our shores, we rigidly institute a policy whereby foreign investors are only being granted licenses in respect of projects which, because of the resources and technical know-how required, may be beyond the capacity of local entrepreneurs, acting on their own," stated Prime Minister Douglas.
As St. Kitts and Nevis prepares to welcome thousands of cricket fans who will descend upon the Federation for matches of the ICC Cricket World Cup 2007, Prime Minister Douglas reminded the developers of their commitment to him several years ago to "stick to your targets that a significant number of our own villas and properties here would be ready for 2007 Cricket World Cup. I am hoping that I can hold these developers to that promise."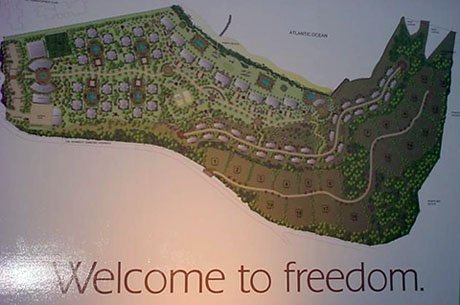 Artiste's impression of Ocean's Edge Resort, Frigate Bay, St. Kitts.
Photos by Erasmus Williams