Detailed Nevis Villa Review written by a Canadian Visitor
The following commentary is being made by, Richard (a.k.a. Viceroy) who was accompanied by, significant other, Liz, to the British West Indian isle of Nevis. I'm borderline, 60-ish and Liz is dodging the 50's. Having got those statistics out of the way, it should also be said that we're active, inquisitive and fortunate enough to have a month available to escape for a much needed a holiday away from Canada's upcoming winter. A further "mea culpa" is that I've had the benefit of once being in the travel and hospitality profession for about 22 years…many years ago. So where to start?
I've decided not to make a list of "to do's or don't miss"…there's enough information on the web and easily obtained publications to tantalize even the most jaded traveller. So, I'll start with our arrival on St. Kitts from Canada, anticipating a shuttle flight connection over to Nevis…with our baggage. In true Caribbean form, as we were to learn, flights get cancelled and baggage does get mislaid. Never-the-less, we did make it from the airport to the ferry terminal and sailed over Nevis, albeit without our three checked bags. The first lesson for the uninitiated is be cool, be calm and never neglect to pack essentials in your carry-on luggage…up to maximum! And if two or more of you are travelling, split up your clothing in each other's checked luggage, in case one gets lost.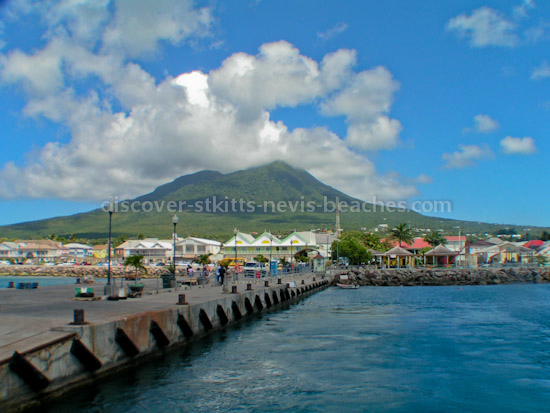 Charlestown Pier with Nevis Peak in the background
From the hubbub of the Basseterre ferry terminal the contrasting scene at the Charlestown dock was almost serene. A taxi had been arranged by the management company of the villa we had rented for 30 days and Ed, the driver was kind enough to deliver us, via the grocery/liquor store (medicinal alcohol was necessary to maintain our state of calmness and celebratory mood…we made it!) to our villa, even though starter food stuffs were stocked. Our first night, and it came quickly, saw us pondering our clothing plight, forgetting that the villa was a private haven, (unlike a hotel or resort) where clothing was optional. Not a pretty sight but more or less essential for a couple of days! Oh, and that was when the heavens opened up with a brief but torrential downpour, followed by the power going out…ain't life in the tropics grand? Our start had all the elements of a Chevy Chase holiday movie script! However, candles, a couple of rum cocktails, a dip in the pool and off to bed…tomorrow had to be better…and it was!
Why Nevis? Why arrive mid-November? Why a month? Why a villa?
The first three answers are easy. Nevis was researched extensively on the net after a colleague, who lives in St. Kitts, suggested the SKN area as a great place to get a true tropical Caribbean experience. Nevis came up spades when each of our priorities were met: English speaking, good infrastructure, good beaches, friendly people, relatively crime free and, of course, the promise of good weather. We were later to learn there are many more things to add positively to any list.
Mid-November to mid-December coincided with available time away from work and a good chance that the weather gods would not have any hurricanes lingering. More important were economics, dealing with the "low season" rates and fewer crowds.
To decide on a month away in a place never visited, admittedly took some self-convincing but again, the economics of adding up airfare, accommodation and the cost of food…dining in and out…all divided by 30 days, dropped our "cost per day" to substantially less than found in most one week or ten day holidays. Okay, the total was still "outside our normal financial envelope" but I felt satisfied that we had made the right decision and budgeted accordingly. An underlying reason, however, was that we have thought about retiring to a tropical local and this would be a good way to put our proverbial toes in the pool to test our ability to adapt. In reality, at least two months would be necessary…so we'll try Nevis again, having gained much insightful experience and a love for the island.
Ah, a "villa", the lifestyles of the rich and famous…not necessarily so! Admittedly, there are very few one-bedroom villas but we found one that was ideal for our needs and budget. A principal reason for this choice is not that we're anti-social…its just that we enjoy our freedom, peace and privacy. We've done the hotel/resort, cruise and condo "thing" and prefer, for anything more than a week, no immediate neighbours, noisy kids, the antics of adults or some director of activities worrying about our lack of participation.
Continue to Part 2 of Richard's 4-Part Nevis Villa Review.
Read more reviews at the St Kitts Nevis Reviews Main Page.