by Camille Roy
Staff Writer, Travelweek
On a recent press trip to St. Kitts, a group of travel writers from Canada went on a four hour rainforest hike with Greg's Safaris.
Owner, Gregory Pereira, has been giving tours of St. Kitts's rainforest, volcano and plantations since 1986.
On the way to the rainforest, Gregory takes a detour to explore a hidden canyon, which features pre-colonial Carib Indian rock drawings on the canyon's 100 foot deep walls, and a river running along the canyon's bed.
Although Gregory easily crosses the narrow river by jumping on rocks jutting out of the water, torrential downpours at the end of the island's rainy season have swelled the normally shallow river, making it difficult for the rest of us to keep up. And, it didn't take long before we are walking in water as deep as our thighs.
Gregory gives his assurance that there is a surprise at the end of the canyon. Despite being soggy, we are not disappointed as we round the final bend and catch the first glimpse of sun shining down on a gorgeous waterfall.
Then it's on to the Wingfield Estate for The Valley of The Giants Rainforest Tour.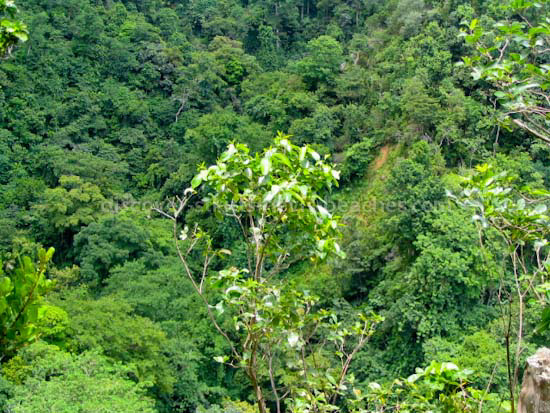 Valley of the Giants Rainforest at Wingfield
Gregory is a natural storyteller, and along the trail through the protected rainforest sanctuary, he tells both informative and interesting anecdotes about the different flora and wildlife, including vervet monkeys and giant river crayfish.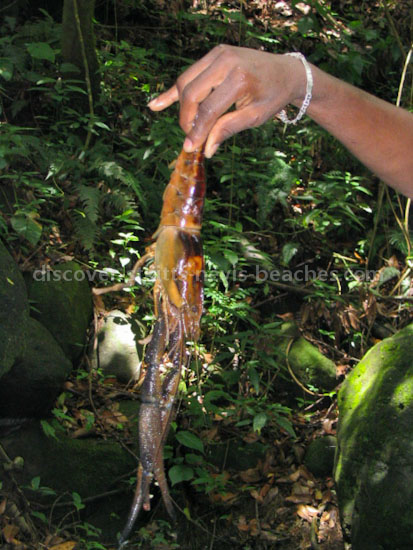 Crayfish from the Wingfield River
The half day rainforest hike costs $42 USD and includes a professional guide, transportation from the hotel by modified land rover and full island picnic.
Greg's Safaris also offers a half day plantation tour for $42 USD and a full day volcano hike for $82 USD.
Visit www.gregsafaris.com for more details or call 869-465-4121.
Please remember that if you have any fun and memorable St Kitts and Nevis experiences, or if you have a St Kitts Nevis travel article that you'd like to share, please let us know about it here.