In this article on green cruises, freelance writer Laura McCann looks at cruises to the Caribbean and highlights the green initiatives taken by major cruise lines that offer cruises to the islands.
How Green Are Cruises to the Caribbean?
by Laura McCann
Next time when you want a green holiday, don't be reluctant to go for a green cruise! There was a time when cruise ships sailing in the Caribbean were some of the worst vessels when it came to minimizing the impact of sailing, in regard to eco-friendliness. Companies have been accused of dumping garbage, grey water, untreated bilge and who knows what else into the sea without considering the consequences. Their carbon footprint was huge because there was no major effort to save energy. Well, over the last 10 years that has all changed! Due to new regulations enacted by the US and countries in the Caribbean, many of the practices noted above are no longer allowed, in any ship that docks in the US or Caribbean ports. So just how are they doing it? Following is a list of major cruise lines and ships with start points in the US and San Juan, PR that sail to the Caribbean, and what they are doing to become green cruises.
According to the environmental group Oceana, the average cruise ship produces a large amount of pollution every day, with over 160,000 gallons of sewage from sinks, showers, and toilets, or 7 tons of other waste, among others.
Towards Green Cruises: Recycling and Incinerating
There was a time when cruise ships just dumped all their garbage overboard. This garbage included things like: plastic cups, plastic silverware, Styrofoam, cooking oil, mattresses, televisions, and the list goes on and on.
Today things have changed. All the major cruise lines to the Caribbean, including Norwegian Cruise Lines, Royal Caribbean, Celebrity Cruise Line, and Princess Cruises incinerate all the garbage that regulations allow them to and recycle any solid waste that can't be incinerated by offloading this waste for disposal.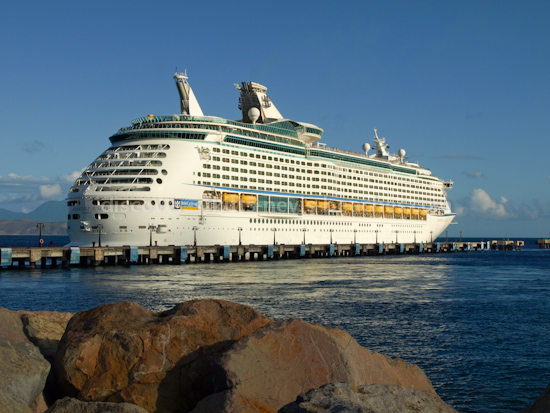 Adventure of the Seas at Port Zante
Steps Towards Green Cruises: Cruise Lines Green Initiatives
Norwegian Cruise Lines has partnered with an organic farmer in Miami, to recycle some of their cooking oil.
The oil is turned into a biodiesel and reused on the ship or burned in cars, trucks, and farm equipment in the Miami area. Biodiesel releases less carbon dioxide than regular diesel, and since this is made from used cooking oil it doesn't take food from the food chain. In one 3 month period in 2008, they recycled 45 tons of cooking oil: that is enough to fuel the average family car for over 475,000 miles! To date they have delivered more than 500,000 gallons of cooking oil to facilities in the US to be converted to biodiesel.
Some major cruise lines have also installed water purification systems to clean wastewater to near drinkable cleanliness. While it is not drinkable, it is clean enough by EPA standards to be discharged into the sea. They have also built a wastewater water purification plants on the islands they own, as well as implemented new recycling activities.
In August, 2011 NCL announced a partnership with NextEra Energy Resources the largest producer of wind and solar power in North America. The initiative allows guests on NCL cruises to contribute $10.00 per person, per cruise through NextEra Energy Resources EarthEra Renewable Energy Trust when they book their cruise online. The trust will use 100% of the donations to build new renewable energy resources across the United States.
Royal Caribbean's latest addition to their fleet the huge Oasis of the Seas (5400 passengers) uses state of the art liquefied natural gas to power the engines and are equipped with scrubbers that eliminate SOx emissions, reduce carbon dioxide by more than 20%, and reduce NOx emissions by over 80%. The Oasis of the sea requires 25% less power than smaller but similar cruise ships. The ship also processes all of its wastewater onboard to standards clean enough to discharge into the sea.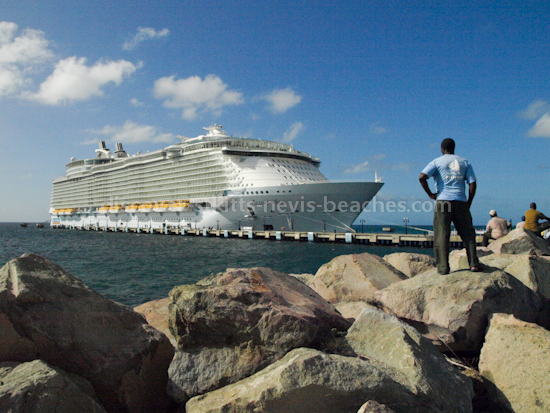 Allure of the Seas docked at Port Zante
Towards Green Cruises: More Recent New Initiatives by all the Major Cruise Lines
New more efficient engine designs that include diesel electric allowing much of the engine power to shut down when power demand is lower, which reduces fuel consumption and emissions.
Shore based power that allows ships to plug in and use the ports local grid to power the ship for passengers, which lets them shut down the engines.
New high tech power supply management systems that automatically control the power needs of the ship, and reduce power to the minimum level needed, to meet current demand.
Hull designs and coatings that reduce friction, which reduces drag and requires less energy to propel the ship thru the water.
New highly efficient air conditioning, heating, and ventilation systems that use sophisticated software to optimize energy use in these systems.
Waste heat recovery technology that allows warm air to be recirculated into the ship reducing the amount of energy needed to provide heat.
They are currently testing a new scrubber technology that uses seawater that eliminates all particulate and sulfur dioxide gas from the engine exhaust.
Using biodiesel as an alternative fuel.
Installing and testing solar panels as an alternative power source. Celebrity Cruise Lines recently installed 80 solar panels on their Celebrity Solstice, and 216 on the Celebrity Equinox.
Installing specially designed interceptor plates that lift the body of the ship to reduce drag which reduces the amount of power needed to propel the ship thru the water thereby reducing energy consumption.
Applying coatings to windows on the ship to prevent the sun's heat from penetrating the glass, which reduces power consumption needed to cool the ship.
Minimizing water use by installing low flow showers and faucets and using vacuum technology for flushing toilets.
Using environmental awareness videos to teach passengers how to participate in the green initiative during the cruise. Things like using the recycling containers arrayed throughout the ship, taking shorter showers, and not throwing anything overboard.
Many of the cruise lines now employ people to sort, process, recycling, and final disposal of garbage that can't be incinerated.
Using energy efficient LED light bulbs that consume 80% less energy and last 25 times longer than incandescent bulbs.
Which Cruise Ships Offer Green Cruises?
Are you wondering which ships use the latest green technology for cruising the Caribbean?
From Celebrity: Celebrity Equinox, Celebrity Reflection, Celebrity Summit, Celebrity Silhouette, Celebrity Eclipse
From Princess: Emerald Princess, Crown Princess
Norwegian Cruise Lines: Norwegian Epic, Norwegian Pearl, Norwegian Jewel, Norwegian Star, Norwegian Dream, Norwegian Dawn, Norwegian Sun, Norwegian Gem, Norwegian Breakaway
Royal Caribbean Cruise Line: Legend of the Seas, Mariner of the Seas, Explorer of the Seas, Independence of the Seas, Oasis of the Seas, Brilliance of the Seas, Navigator of the Seas, Allure of the Seas, Grandeur of the Seas, Jewel of the Seas, Adventure of the Seas, Enchantment of the Seas
Laura McCann is a freelance writer specializing in green technology and eco-tourism. When not writing, she is conscious about offsetting her carbon footprint and taking her dogs for long walks in the woods where she helps plant trees.
I hope you enjoyed Laura's article about green cruises. If you did, please feel free to share your thoughts about the article in the Facebook comments box below.