BASSETERRE, ST. KITTS, SEPTEMBER 25TH 2005 (CUOPM) – The timing of the 12th Annual Florida Caribbean Cruise Association (FCCA) Conference, at this time in the Federation's economic history, is a significant opportunity for the islands and its people.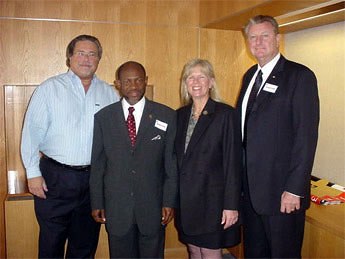 So says St. Kitts and Nevis' Prime Minister and Minister of Tourism, Dr. the Hon. Denzil L. Douglas, who added that hosting this FCCA Conference is a sign of "confidence placed in the Government and the People of this country, especially those are responsible for the development of the tourism sector here in St. Kitts & Nevis."
On the eve of the event, a first for any OECS country, which will see some 1200 cruise stakeholders visiting St. Kitts, Prime Minister Douglas said the participants including Ministers of Tourism, Directors of Tourism, cruise ship agents, restaurateurs, port officials and businessmen and women and "will all experience our hospitality, venture through our towns, villages, see our historical sites, judge/test our capability to logistically host this large event, and be treated to our cuisine and culture."
"We will be creating stronger links with the cruise industry as we gear ourselves for the growth of this sub-sector," said Prime Minister Douglas, who encouraged all local stakeholders "who may have a service or product to offer to the industry, to register and be a apart of the conference so that you may understand the industry's needs in your attempt to create business with it."
Dr. Douglas pointed to the potential benefits to be earned from hosting the FCCA on St. Kitts and Nevis saying it will "go beyond this year and will therefore manifest itself in the upcoming years."
"Our destination will be on show and we all stand to benefit from a successful hosting of the conference let us rally to demonstrate that we are the premiere cruise destination in the Caribbean," said Prime Minister Douglas.
Photo # 1 – St. Kitts and Nevis Prime Minister Dr. the Hon. Denzil L. Douglas (second from left) during a visit to Miami in 2004 with Chairman and CEO of Carnival Corporation and Chairman of the Florida-Caribbean Cruise Association (FCCA), Mr. Mickey Arison (left); President of the Florida-Caribbean Cruise Association (FCCA), Ms. Michelle Paige (third from left) and Vice President for Caribbean and Atlantic Shore Operations for Princess Cruises, Steve Neilsen (right) after discussing the possibility of St. Kitts and Nevis hosting the FCCA Conference.
(Photo by Erasmus Williams)