"EMPRESS OF THE SEAS" TO MAKE 20 CALLS THIS SEASON
BASSETERRE, ST. KITTS, OCTOBER 17TH 2005 (CUOPM) – The 2005/2006 Cruise Ship Season began Saturday with the arrival of the Royal Caribbean Cruise Line "Empress of the Seas."
The 48,000-ton "Empress of the Seas," which will make some 20 calls to St. Kitts this Season, arrived from St. Maarten with 1,562 fun-loving and sun-seeking passengers.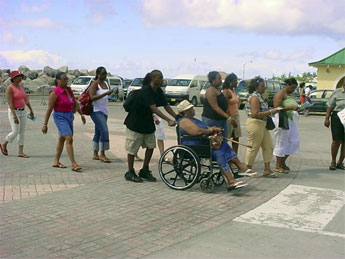 Empress of the Seas passengers leaving Port Zante
Most of the passengers disembarked and went on island tours by taxi and the St. Kitts Scenic Railway; shopped in downtown Basseterre, snorkeled, hiked, played golf, explored the hills on the Fun Bikes, went sea bathing at Frigate Bay, South Friars Bay and Turtle Beach or on catamaran cruise.
The "Empress of the Seas," is one of 16 Royal Caribbean ships in the Caribbean this winter.
Formerly, the "Nordic Empress," the ship underwent extensive renovations before it was re-named and repositioned for its 11-night Exotic Caribbean itinerary and three-night sailings from San Juan.
Royal Caribbean promotes St. Kitts as an island of dormant volcanoes, good beaches, gorgeous green hills and a beautiful backdrop to the Caribbean adventure.
The island's deep colonial history is reflected in the abandoned fortresses, as well as its landscaped gardens, city squares and architectural details. Brimstone Hill Fortress National Park, Independence Square, the St. Georges Anglican Church and the Co-Cathedral of the Immaculate Conception are highlighted.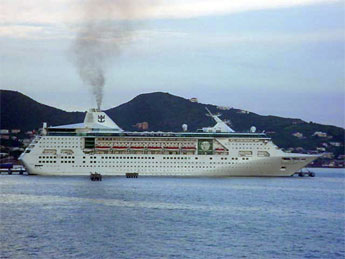 Empress of the Seas at Port Zante
(photos by Erasmus Williams)