Diving on St Kitts receives great reviews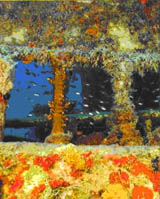 Basseterre, St. Kitts, January 27th, 2006 - St. Kitts has much to offer its visitors both on land and especially beneath the sea. According to a three page article placed in the Advanced Diver Magazine, 'St. Kitts underwater real estate has an abundance of life!'
Having accepted an invitation from the St. Kitts Tourism Authority, photographer Cass Lawson & publisher Curt Bowen journeyed to St. Kitts from the United States (US) to report on local diving. These divers were not at a loss for words after their dives at Coconut Reef, Brimstone Shallows, the reefs of Sandy Point and a number of other areas.
A favourite diving site was in Sandy Point, beneath the watchful eye of the 800-foot aerial of Brimstone Hill Fortress. Curt Brown explains why he enjoyed diving in this area, 'it is here where multi-layered reefs stack like aging cordwood and infinite layers of coral and mind-blowing seascapes burn an everlasting memory into your heart and soul.' They particularly enjoyed diving around a few sunken ships, in other areas, where they came across 'many colourful fish species…large sting rays, slipper, spiny lobsters, jaw fish, puffer fish and sea turtles ", amongst others.
The divers did find the time to explore local delicacies above the sea. They toured the island, experienced the culture and dined at Ballahoo Restaurant, Circus Grill, Stonewalls, Rawlins Plantation, Sugar Bay Club, Oasis Café, Island Spice Restaurant, Bobsy's, Turtle Beach Bar & Grill and at their hotel, the Bird Rock Beach Hotel, amongst others.
Advanced Diver is a quarterly publication for advanced scuba divers, a group which research indicates spends more on diving while on vacation.
The St. Kitts Tourism Authority's mandate includes the development and promotion of the Tourism product of the island. It endeavours to make the dive sector a viable segment of the overall tourism industry.
For information on Diving Contact: Randolph Hamilton, Product Development Manager at 1-(869)-465-4040.