FIRST DISNEY CRUISE SHIP TO VISIT ST. KITTS IN 2006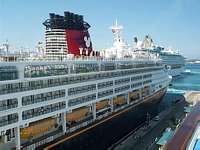 BASSETERRE, ST. KITTS, AUGUST 6TH 2005 (CUOPM) – The first Disney cruise ship to visit St. Kitts will do so in September next year.
The Disney Cruise Line has announced that St. Kitts' Port Zante is one of two new destinations included on one of two special 10- and 11-night cruises to the Southern Caribbean.
The 1750-passenger Disney Wonder's Southern Caribbean cruise, will mark the first time Disney has offered cruises longer than three-or four-nights aboard.
A Disney statement said the Southern Caribbean itinerary includes exotic ports such as St. Thomas, St. Lucia, Barbados, Antigua and St. Kitts. Barbados and St. Kitts are new ports of call for Disney Cruise Line. The 10-night cruise will depart on Sept. 7, and the 11-night cruise departs on Sept. 17, 2006.
"We have found that once our guests experience a Disney cruise, they are eager to return again for a new adventure to different ports of call. "These special, longer cruises were designed with our repeat guests in mind," said Disney Cruise Line President Mr. Tom McAlpin.
Photo: Disney Wonder 1