The majority of people who go on a Caribbean vacation go for the beaches. So says one unofficial poll on aboutthecaribbean.com. Other responses include reasons such as relaxation, partying, snorkeling and scuba diving.
For me, the leisurely pace of life on an island is the perfect avenue to unwind from a stressful year of work.
We know the beaches in the Caribbean are among the very best in the world. Still I am surprised that more of the Caribbean visitors don't choose relaxation as the primary reason for their visit.
The fact of the matter is that it is impossible to just sit around on a lovely island - you just can't!
Every time I look at the water from the window of an airplane coming to land on an island in the Caribbean sea, I just want to get in that warm crystal clear water. Being there relaxes my mind, but I just have to actively enjoy the beach and the tropical scenery.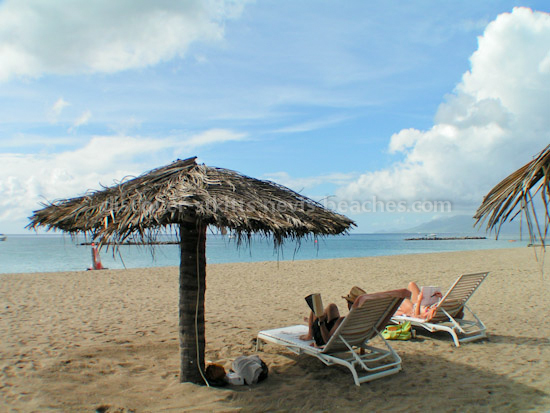 Couple relaxing on Pinney's Beach in Nevis
I think a Caribbean vacation is an escape. It's an escape to a relaxation that your heart and mind love. Do you know what I mean? I think some of the sentiments are captured in this poem I wrote thinking of my vacation in the Caribbean recently.
The Caribbean Vacation
by Bentley Thompson
You can get there by cruise
You can light from a plane
And when you do get back home
You want to go again
It's a heavenly experience
Of a Caribbean getaway
The weather's right all season
Any month, any day
You have no need to worry
That relaxation's out of reach
I've just come off the ferry
And now I'm on the beach
The folks around here tell me
They all say this is true
You'll be back again my friend
You've got sand in your shoe!
The sea, the sand, and island food
All make me salivate
The art and music are so good
They make my frame gyrate
Be king of isle or queen of cay
Choose any destination
Just pick a place in the Caribbean sea
And have a great vacation!
A Caribbean vacation can be a memorable family experience too. Doesn't it amaze you that in one destination you could find a volcano, pretty beaches, and lush tropical vegetation that is all too captivating?
Consider a Caribbean family vacation when next you are thinking of a way for everyone to relax. Where else can you find waterfalls, underground caverns, limestone formations, relics of past civilizations, and world class hotel accommodations all within a few miles of each other?
About the Author:
Bentley Thompson is an engineer who loves the Internet and computers. He is the owner of several websites including:
Family Adventure Vacation Ideas http://www.family-adventure-vacation.com
Internet Computer Checkup http://www.internet-computer-checkup.com.
You can contact Bentley at http://www.family-adventure-vacation.com/contact.html