ST. KITTS TO HOST 2005 CARIBBEAN POKER CLASSIC TOURNAMENT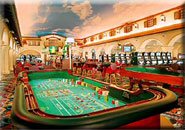 BASSETERRE, ST. KITTS, JULY 15TH 2005 (CUOPM) - A nine-night stay at the posh St. Kitts Marriott Resort is one of the major prizes to be won by online poker players around the world.
According to Online Casino News, Poker Plex, is offering the winners a chance to combine an idyllic holiday during the 2005 Caribbean Poker Classic Tournament in St. Kitts from November 26th to December 3rd.
It said the estimated prize pool is at least US$2 million and growing.
Since July 10th Poker Plex is offering its players multiple opportunities to vie for a seat at the Caribbean Poker Classic by running single and multi-table satellite tournaments.
"Single-Table Tournaments will be available 24 hours a day, seven days per week; Satellites into Super Satellites will run six times daily and the Super Satellite Multi-Table Tournaments will run both weekly and on Sundays at 18:00 UK (13:00 ET)," said Online Casino news.
It said players will battle for a prize package which will transport them to St. Kitts.
The package also includes a US$6,300 entry into the Main No-Limit Event; a US$1,300 9-night's stay at the prestigious St. Kitts Marriott Resort; US$1,400 cash deposited into the player's poker account and a generous US$1000 in cash upon registration at St. Kitts.
The St. Kitts Marriott Resort & The Royal Beach Casino boasts 623 over-sized, deluxe guest rooms. Amenities include one of the Caribbean's largest and most luxurious casinos, three swimming pools, a swimming area with natural reef, a full service spa/health club, six restaurants, two lounges, a night club and an 18-hole championship golf course.
Photo: The Royal Beach Casino at the posh St. Kitts Marriott Resort
(photo provided)