If you prefer to read this e-zine in your Web browser, click here.
Table of Contents
Editor's Notes:
The last few months since the last issue have been a bit challenging equipment wise, as my laptop died on me. And the irony of it all, the laptop waited until the new battery that I had ordered arrived, before finally taking its last breath. It was during the process of installing and charging the new battery, that issues with the motherboard raised their ugly head, and the laptop refused to come on. Luckily for me though, the guys at the computer repair shop were able to rescue my hard drive and convert it to an external drive, so my data remains intact. So, the time to go laptop shopping finally came. I now have a brand new HP Envy m6 Entertainment PC running Windows 8 (I'm still trying to get used to this new operating system). Additionally, I'm still working on bringing my productivity level back up to 100% so I can continue my labour of love on the Discover St. Kitts Nevis Beaches website.
Let me apologize for any delays or non-response to your e-mails that may have occured during the past few months. I also apologize for non-publication of the SKN Beach Buzz over the past three months.
Finally, I will be on vacation for the next few weeks. In fact, I am actually sending this newsletter from New York, where I'll be spending my time. You will still be able to reach me via e-mail, but please remember that I will be on vacation schedule. So please be patient as it may take me a day or two to respond too your e-mails. I will try to check in every now and then on Facebook, Twitter or Google+ to share some pics from my vacation.
Amicia Mussenden
Editor, The SKN Beach Buzz
Discover-StKitts-Nevis-Beaches.com
New at Discover-StKitts-Nevis-Beaches.com
At Discover-StKitts-Nevis-Beaches.com work continues behind the scenes, preparing new content and optimizing existing content, working on new aspects of the site and responding to the many inquiries received from site visitors. I'm also working on a website sponsorship package in response to numerous requests over the years from individuals and businesses wanting to advertise on my website. I plan on offering a limited number of sponsorship opportunities to St. Kitts and Nevis based businesses. I am also working on an interesting project (sorry I can't share the details right now) which I hope to unveil before the start of the new tourist season. I invite you to stay tuned as there are interesting times ahead for Discover-StKitts-Nevis-Beaches.com.
New Pages
The following pages are the most recent additions to the web site:
Popular St Kitts Attractions - In this article, I take a look at some of the popular St Kitts attractions located outside of the capital city of Basseterre. In my opinion, your visit to St Kitts will not be complete until you would have visited the attractions listed in this article.


A Guide to Getting Married in St Kitts and Nevis - Planning on getting married in St Kitts or Nevis? This guide tells you all you need to know.
In Tune with St. Kitts and Nevis
St Kitts and Nevis: 30 Years On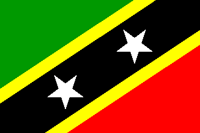 September 19th, 2013 will mark 30 years since the Federation of St. Kitts and Nevis gained it's Independence from Great Britain. Wow! Time certainly flies! I can recall vividly, like it was yesterday, the moment when the Statehood Flag was lowered in Warner Park just moments before midnight on September 18, 1993, to make way for the raising of our Independence Flag as the clock struck midnight. I was in my early teens then and felt proud to be witnessing this momentous occasion.
I also recall singing our new National Anthem "O Land of Beauty" and the patriotic song "I Vow to Thee My Country" in the Schools Mass Choir ably directed by Miss Pamela Wall. The first Independence Day Parade at Warner Park was a sight to behold. The armed and unarmed units paraded in splendor both in slow and quick march to the sounds of the St Kitts and Nevis Defence Force Band. The Community Block parties held in the various communities provided a festive atmosphere, where residents and national came together to celebrate the birth of our Nation while enjoying old talk among family and friends, music, dancing, games and food and drinks being sold for 50 cents or $1.
Thirty years later, the Federation will celebrate the 30th anniversary of Independence under the theme "Stability, Creativity and Prosperity: Celebrating Independence 30". Activities span the entire month of September, with each week having a different focus. The first week has been dubbed National Health, Sports and Fitness week; the second week National Arts Festival week; the third week National Pride week and the fourth week National Family week.
Happy Independence St. Kitts and Nevis!
American Airlines Expands Service to St. Kitts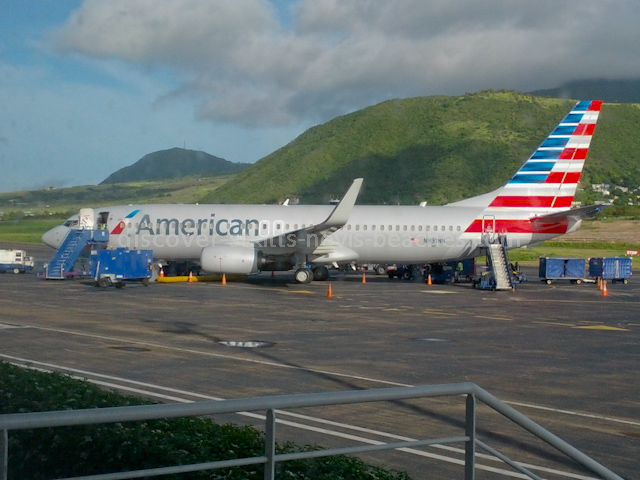 American Airlines recently announced that it will be adding two more non-stop flights to St. Kitts from Miami beginning November 21, 2013. Also announced was a schedule change for its non-stop JFK New York to St. Kitts flights. The additonal flights from Miami will operate on Thursdays and Saturdays, bringing the total number of flights from Miami to 11 weekly, with service twice per day from Thursday through Sunday.
American Airlines flight AA1741 will depart Miami International Airport (MIA) at 4:45 p.m. every Thursday through Sunday and arrive at the Robert L. Bradshaw International Airport (SKB) in St. Kitts at 8:35 p.m. The aircraft will overnight at the RLB International Airport and depart St. Kitts as American Airlines flight AA1746 at 8:40 a.m. every Friday through Monday, arriving in Miami at 11:00 a.m.
In relation to the change in schedule for the American Airlines service between New York and St. Kitts, American Airlines flight AA2051 will depart New York's John F. Kennedy International Airport (JFK) at 4:30 p.m. and arrive in St. Kitts at 9:40 p.m. every Wednesday and Saturday. After overnighting in St. Kitts, the return flight AA2052 will depart St. Kitts at 9:40 a.m. and arrive at JFK at 1:25 p.m. every Thursday and Sunday.
I definitely welcome the schedule change for the flights between JFK and St. Kitts. No longer will I need to get up in the wee hours of the morning to make my way from upstate New York (Dutchess County) down to JFK for the early morning check-in to catch the flight to St. Kitts. Also the morning departures from St. Kitts suits me just fine, especially if I'm travelling to Washington DC. At least I will be able to get a connecting flight without having to overnight in New York. The new flights to and from Miami would also make it possible to connect to more flights without having to overnight in MIA. Thanks American. Now perhaps you can focus on bringing down the fares some :).
Congratulations to St. Kitts Captain Sunshine

Congratulations to St. Kitts Captain Sunshine/Captain Sunshine Tours on being awarded a TripAdvisor Certificate of Excellence for 2013. For those who may not be aware of what TripAdvisor's Certificate of Excellence is, it is a certificate awarded to businesses that rank in the top 10% worldwide for traveller feedback. As a small tour operator business based in Old Road in St. Kitts, St. Kitts Captain Sunshine/Captain Sunshine Tours has worked extremely hard over the years to offer quality service to their clients. Kenny and Devin Richardson dubbed the "Sunshine Brothers" are the owners and operators of this well respected and highly regarded St. Kitts tour business. I am extremely proud of them and their accomplishments, and feel extremely honoured to have them as one of my featured partners. Join me in extending congratulations and best wishes to St. Kitts Captain Sunshine/Captain Sunshine Tours.
Upcoming Events
St Kitts and Nevis Independence 30 Activities
As mentioned earlier in the newsletter, the activities to celebrate the Federation's 30th Anniversary of Independence will span the entire month of September. While it is not practical for me to present the entire schedule of activities, I want to highlight some of the activities that may be of interest to you. Activities taking place in St. Kitts include:
September 6 - National Health Fair and Traditional Sports Display, Independence Square, 10 a.m.
September 7 - National Fitness Day Triathlon, 4:00 p.m. Cyclists will start from Molyneaux, runners from Cayon and walkers from Keys Village.
September 9 - Opening of the National Arts Festival, Independence Square, 9:30 a.m.
September 10 - Visual Arts Day, Independence Square, 11:00 a.m.
September 11 - Literary Day, Independence Square, 11:00 a.m.
September 12 - Culture Gala Night, In front of National Museum/Old Treasury Building, 7:30 p.m.
September 13 - National Potpourri Day,Independence Square, 11:00 a.m. and National Colors Parade throughout Basseterre, 6:00 p.m.
September 14 - Music on the Square, 11:00 a.m.
September 15 - National Day of Prayer; State Service at St. George's Anglican Church
September 18 - Independence Super Concert and Fireworks Display, Cricket Stadium, Warner Park
September 19 - National Dress Day; Independence Parade, Football Stadium, Warner Park, 8:00 a.m.; and Community Block Parties throughout the island, 2:30 - 7:00 p.m.
September 20 - National Colors Day; Military Drill Parade, Bay Road, 4:00 p.m.
September 21 - Patriotic J'Ouvert Jam, 5:30 a.m.; and Brimstone Hill Run for the Fit and the Fearless, Brimstone Hill, 7:00 a.m.
September 22 - Defence Force Sunset Recital, Brimstone Hill Fortress National Park, 4:00 p.m.
If you will be in St. Kitts and Nevis during this time I hope that you will join in the celebrations. If you do please take lots of photos and remember to share them with me via Facebook, since I will miss the last 3 weeks of celebrations.
"A Journey Back in Time" Scenic Railway Tour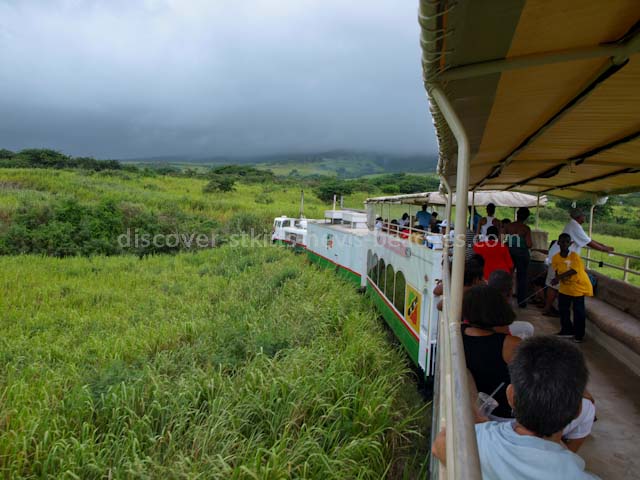 The St. Christopher National Trust (formerly the St. Christopher Heritage Society) will host its 2nd annual "A Journey Back in Time" Scenic Railway Tour on Monday 16th September, 2013 at 8:30 am. The fund-raising event is organized in collaboration with the St. Kitts Scenic Railway and is one of the ways that the Trust celebrates our National Heroes and ancestors. The tour includes live entertainment, storytelling of old stories and tales passed down by our ancestors, opportunities to win numerous gifts and prizes and light refreshments. Proceeds are in aid of restoration of the Old Treasury Building and other heritage sites vested in the National Trust.
Tickets for the event are EC$80.00 for adults and EC$50.00 for children. There is a 10% discount on every single purchase of 10 tickets. For more information and to reserve your tickets visit the St. Christopher National Trust in the Old Treasury Building, or contact them via email at schs@sisterisles.kn, telephone at 869-465-5584 or Fax: 869-465-5584.
If the tour this year is anything like the journey last year, I can guarantee that you will have a great time. If on island, please patronize the event. I'm so sorry that I will miss it this year.
Annual Brimstone Hill Run for the Fit and Fearless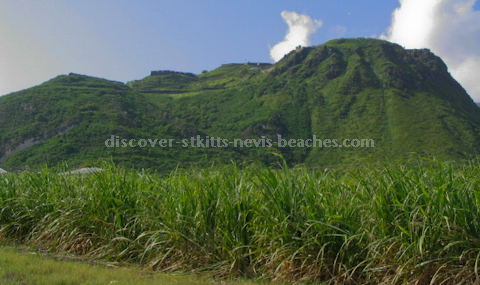 The 30th Independence Anniversary Brimstone Hill Run for the Fit and Fearless takes place at Brimstone Hill on Saturday September 21st from 7:00 - 10:00 a.m. The event is family oriented so both the young and not so young are welcome to register. For persons 17 years and under, the registration fee is EC$5.00, while those 18 years and older will pay EC$10.00. Registration is currently open and closes on Friday September 13th at 4:00 p.m. The late registration period runs until Tuesday September 17th at 3:00 p.m. An additional EC$10 fee is charged for late registration.
Registration forms are available at the Brimstone Hill Society office on Taylor's Range, the Brimstone Hill Fortress National Park, the St. Christopher National Trust in the Old Treasury Building on the Bay Road as well as several of the hotels on St. Kitts. This is a great opportunity to keep fit while joining in the celebrations for the 30th Anniversary of Independence in St. Kitts and Nevis
Unfortunately, I will miss this event since I will be off island. If you attend, please share your thoughts with me as an audio review or on my Facebook page.
2013 Latin Fiesta St. Kitts
October 27, 2013 is the date set aside for the 4th Annual Latin Fiesta St. Kitts. The St. Kitts Marriott Resort had partnered with Latin Festival, LLC the main promoter of this event to organise this year's event which is themed "Dominican Republic Edition". The venue for 2013 Latin Fiesta is the beach at the St. Kitts Marriott Resort.
According to Latin Festival, LLC, "Latin Festival St. Kitts seeks to increase awareness of Latin Music and improve the relations between Latin speaking countries around the Caribbean and the people of St. Kitts and Nevis."
MaccaX Nevis Triathlon
Save the date, November 16, 2013 for the MaccaX Nevis Triathlon. The event is being organised by the St Kitts & Nevis Triathlon Federation in collaboration with Chris 'Macca' McCormack, Mr Triathlon himself. This year will mark 12 years of hosting the Nevis triathlon. Athletes from all over the world and the Caribbean region are expected to participate in this year's international long and sprint distance events.
Do you have an upcoming St. Kitts and Nevis event? Provide me with the details of your event and I would be happy to share that information with my newsletter readers in the Upcoming Events section of the SKN Beach Buzz.
Featured Photos
Sugar Manufacturing in St. Kitts:
Some Photo Highlights
In this month's featured photos, I take a look back at sugar manufacturing in St. Kitts. As we get ready to celebrate the 30th anniversary of Independence in St. Kitts and Nevis, I feel that it is fitting to take a look back at sugar manufacturing. For the first 22 years of our life as a new nation, the sugar industry played a lead role in our economy as a key source of foreign exchange earnings and a major provider of employment. Unfortunately, after a period of decline owing to changes in the world price of sugar and changes in the preferential arrangements under which sugar was exported, the industry closed its doors on July 30, 2005.
In the final months leading up to its closure, the St. Kitts Sugar Manufacturing Corporation (SSMC) welcomed the public to get their final glimpses of the sugar manufacturing process. I was fortunate to tour the operation on the morning of July 9, 2005. Lest we forget the role that sugar played in the development of our nation, today I share with you some of my photos taken during the final days of the sugar industry in St. Kitts. While some of the photographs may not be the best due to the challenging conditions (dark and bright spots in the scame scene, lots of movement, live process etc) under which I was shooting, I hope you will nonetheless enjoy the photo tribute.
Click to view a gallery with larger versions of the photos