Issue #5
February 2013
Written by Amicia Mussenden
Founder/Publisher, Discover-StKitts-Nevis-Beaches.com
If you prefer to read this e-zine in your Web browser, click here.
Table of Contents
Editor's Notes:
Happy New Year to my Discover St Kitts Nevis Beaches family, especially you my loyal St Kitts and Nevis Beach Buzz subscribers. May this be your best year ever. Wishing you success, prosperity, good health, love, peace and happiness throughout the year and always. I trust that you had an enjoyable Christmas. For those of you who were in St Kitts and Nevis over the holidays, I hope that you thoroughly enjoyed our Carnival, Sugar Mas 41. Please feel free to share your pics from Christmas and/or Carnival with us on Facebook, Google+ or Twitter.
The SKN Beach Buzz is Back!! Although you have not heard from me via this medium for some time now, I want to reassure you that I am still here in beautiful St. Kitts and Nevis working behind the scenes on my Discover St Kitts Nevis Beaches website, and thoroughly enjoying it. Over the past few months, I've been engaged in a total refresh of my website (new logo, new colour scheme and look and feel, new functionality on site, and updating the pics throughout the site among other interesting things including making preparations for a mobile friendly version of the website). The new look will be revealed to you throughout the course of the first quarter of the year, once all goes well. Other enhancements will be unveiled throughout the year. I will also resume regular publication of the SKN Beach Buzz. That's right! You've told me how much you've missed the publication, so as of this issue 'The Buzz' is back!
Thank you so much for your words of encouragement and support over the years. Your e-mails, IM and Facebook messages, telephone calls, comments, engagements and interactions have continued to provide me with the encouragement and inspiration to carry on this labour of love on my website. I look forward to your ongoing support and increased social media interaction in 2013 and beyond as I continue to provide you with valuable information about St. Kitts and Nevis.
Amicia Mussenden
Editor, The SKN Beach Buzz
Discover-StKitts-Nevis-Beaches.com
New at Discover-StKitts-Nevis-Beaches.com
Since it has been a while since I've last shared site updates with you via this medium, what I propose to do is to summarize some of the more important updates that were made, as well as share with you the links to some of the most recent pages that were added to my website. Here goes:
Page Commenting
I have added a commenting feature to website pages to provide you with the ability to make comments or ask questions on each page. The commenting box is located towards the bottom of each page, just after the content. (See image below.) The commenting feature is actually a Facebook app, thus you will have the option to also have your comments displayed on your Facebook wall. I encourage you to make use of this feature. I look forward to reading your comments and to responding to any questions you may ask.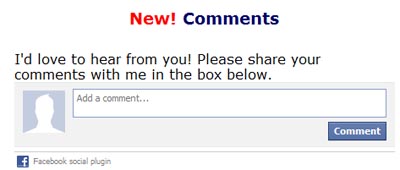 Get Social
With all that's happening in the social networking circles, I've decided to join the social train. As such, I've added various social networking buttons/badges to allow you to i) like our website pages using the Facebook like buttons in the upper right and lower left columns, ii) +1 our pages and follow us on Google+, iii) find our Google+ page and iv) follow us on Twitter. The buttons/badges are located in the Get Social box in the right column of our website pages. So what are you waiting for? Let's get social! See you on Facebook, Twitter and Google+.
Social Sharing
Still on the social networking scene, I've also added the ability for you to share our pages via Facebook and tweet about our pages on Twitter. The Social Sharing bar is located at the bottom of the pages just after the page commenting box.

If after you are finished reading our pages you would like to share them with your family and friends, just click the Facebook and/or Twitter buttons to share our page with them.
New Look on our Site Blog /Site Updates Page
Our site updates page now displays thumbnail images for the updates. These thumbnail images will appear with each update if an image on the page referenced in the update meets the criteria that we've set for images to display. If no image is displayed, it means that either there are no images on the page or the images do not meet the criteria to be displayed. Some other minor cosmetic changes have also been made to the headlines and background colour for each update. Enjoy!
New Pages
The following pages are the most recent additions to the web site:
Captain Sunshine Tours - A well respected and highly regarded tour company that has been providing a variety of St Kitts shore excursions for over 10 years and amazing Caribbean beach massages since December 2008. Their St Kitts Sunshine 360 Tour is a favourite among cruise passengers and stay over visitors.


Heritage Sites and Attractions: Part 1 - Part one of an article about heritage sites and attractions in St. Kitts.


Heritage Sites and Attractions: Part 2 - Part two of an article about heritage sites and attractions in St. Kitts.


Interactive Virtual Tours - View our 360 virtual tours to virtually visit and interactively tour the offerings in St Kitts and Nevis including visitor attractions such as Brimstone Hill, villas, hotels, restaurants, shops, real estate offerings, golf courses and beaches with complete 360 degree vision. Interested in a 360 virtual tour for your villa, vacation rental, restaurant, duty free shop, beach bar, real estate listing or hotel? Complete the virtual tour inquiry form to request more information.


Scuba Diving in St. Kitts - An interesting article about scuba diving in St. Kitts, complete with beautiful photos of life under the sea.
In Tune with St. Kitts and Nevis
Sugar Mas 2012-2013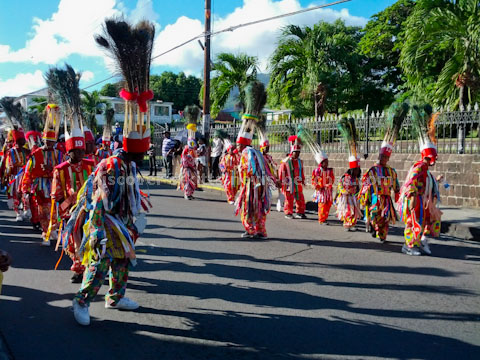 The curtains came down on National Carnival in St Kitts now dubbed Sugar Mas on January 3, 2013 with the last lap celebrations. Sugar Mas 41 with its slogan Plenty Action, Plenty Fun was certainly full of action and fun for revellers and spectators alike. For J'Ouvert, there were four troupes that jammed through the streets of Basseterre to the pulsating sounds of the Brass Bands and Hi-Fi sound systems. Some six Carnival troupes, the Children Carnival troupe, the winners of the Carnival Shows and a number of folklore groups including the Bull, Clowns, Masquerades, Moko Jumbies and Mummies accompanied by their string bands as well as the Hi-fi Sound Systems, Brass Bass and the Iron Band from Newtown paraded through the streets of Basseterre for the Grand Carnival Parade on January 1, 2013 and again on January 2. The parade was really a kaleidoscope of colour. I took some photos of the parade with my cell phone and uploaded them to my online photo gallery for you to view. I hope you will enjoy viewing the photos and will decide to join us in St. Kitts for Sugar Mass 42. View photos of the Grand Carnival Parade 2012-2013.
First Mexican Restaurant in St. Kitts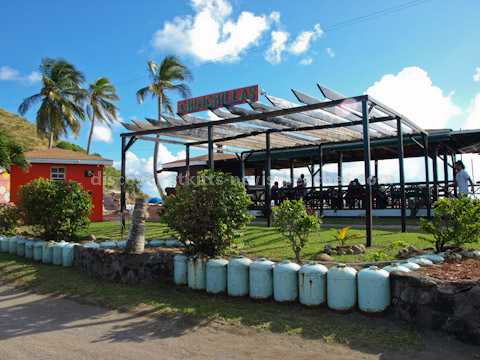 There's a new restaurant on the Frigate Bay Strip in St. Kitts and it's a Mexican first. Let us welcome ChinChillas Mexican Restaurant & Bar, the first Mexican restaurant in St. Kitts. It is located on the Frigate Bay strip in the building previously occupied by Monkey Bar and Restaurant. Chinchillas serves lunch from 11 am to 3 pm most days and the restaurant opens for dinner seven nights a week.
Although I have not yet dined at ChinChillas, I intend to do so pretty soon. I can't wait to try the burritos, fajitas, enchiladas, nachos and the Pollo (Chicken) ala Cazuela. The bar menu also looks very interesting with signature drinks with names such as Mitchelada, Caribbean Breeze, ChinChiller, ChinKiller and Chin Up. With names like those, who wouldn't want to sample them? If you do get to ChinChillas before me, please share your opinions about the restaurant on my restaurant review page.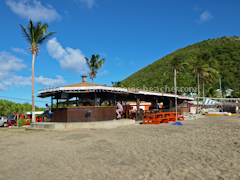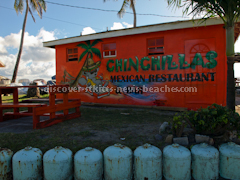 New Slots and Sports Lounge in St. Kitts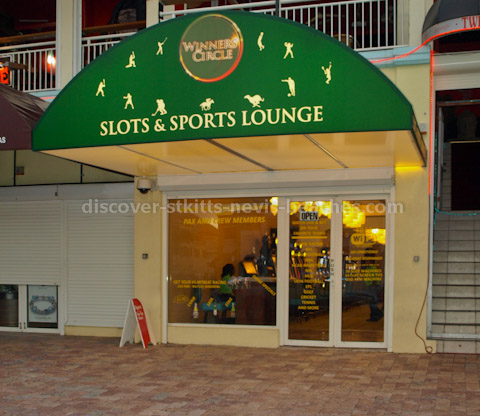 St. Kitts has a new slots and sports lounge. Conveniently located in Shop #2, Building 29 at Port Zante, the cruise ship docking facility (next to Kay's Fine Jewelry), the Winners Circle Slots and Sports Lounge recently opened its doors to the public. Winners Circle offers a full gaming experience including slot machines as well wagering on horse races in the United States and worldwide, and betting on a range of sports. The facility also boasts a modern bar which serves a wide variety drinks and several HD LCD flat screen televisions to facilitate watching the latest sporting events such as the Super Bowl.
The Winners Circle Slots and Sports Lounge opens seven days a week. The opening hours are Sun, Mon, Tue: 1 0am - 10pm; Wed, Thu: 10am - Midnight; Fri, Sat: 10am - 2am.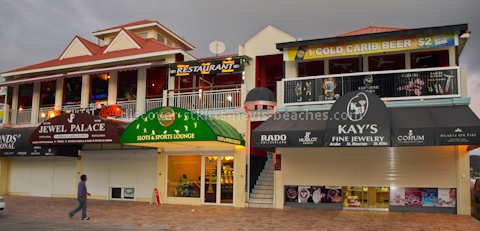 Featured Photos
Historic Sites in St Kitts:
A Photographic Tour
The Federation of St. Kitts and Nevis and Nevis is fortunate to have an abundance of historic sites, with over 250 sites being documented on St. Kitts alone. Most of those 250 sites have not been developed as historical or heritage attractions. In this photo essay, I take a look at some of the more popular heritage sites on St. Kitts.
Click to view a gallery with larger versions of the photos