If you prefer to read this e-zine in your Web browser, click here.
Table of Contents
Editor's Notes:
April 2013. What a month! Well April started out quite well with the publishing of the post-Easter issue of the SKN Beach Buzz. I was looking forward to a productive month of rolling out new content for my website, but my laptop had other plans. On two occasions I had to take it to the repair shop, and even now as I type, I'm waiting for a new battery that was ordered to arrive. As I work on my site, I am keeping my fingers crossed that the electricity will not go off, since the current battery refuses to hold the charge. Definitely sounds like it's time to go laptop shopping! Although I did not get to produce as much content as I would have liked, I did manage to upload two new pages to the site. You will read more about those later in the newsletter.
Thank you for your continued support of the St Kitts and Nevis Beach Buzz and the Discover St Kitts Nevis Beaches website. Do remember to shoot me an e-mail to share your thoughts about the Buzz. I look forward to interacting with you on Facebook, Google+ or Twitter.
Amicia Mussenden
Editor, The SKN Beach Buzz
Discover-StKitts-Nevis-Beaches.com
New at Discover-StKitts-Nevis-Beaches.com
Discover-StKitts-Nevis-Beaches.com Mobile Site is Now Live
You will recall that in my last communication to you, I announced that Discover-StKitts-Nevis-Beaches.com was going mobile and I provided a link to my mobile sandbox for you to test the mobile site before it was officially unveiled. Following extensive testing and tweaking, I am pleased to announce that the mobile site is now live. Now every visitor who visits Discover-StKitts-Nevis-Beaches.com using a supported mobile phone will have the best experience possible.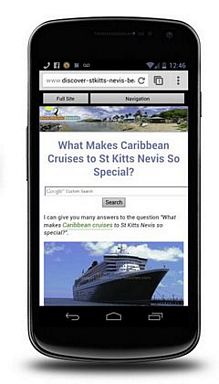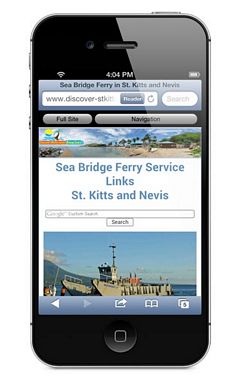 For Blackberry Z10 users, I was made aware of some issues with viewing the mobile site with Blackberry Z10 devices. Since I do not own this device I have not had an opportunity to test the mobile site using this specific device. The device has now been launched in St. Kitts and Nevis so I will try to make some time to go to the LIME flagship store to see if they have any Z10 devices for the public to try out. If they do I will definitely take the opportunity to test out the mobile site and see how best I can address any issues encountered. So to all my Blackerry Z10 subscribers, I apologize for any inconvenience caused, and I will keep you updated on this matter in future issues of the Buzz.
Enhancements to Discover-StKitts-Nevis-Beaches.com
In the last issue I promised to bring you up to speed with some of the enhancements on the redesigned Discover St Kitts Nevis Beaches website. One of these improvements is an upgrade to the way in which we allow you to share your views and opinions with us. While previously you could share your travel reviews and stories with us by completing forms on some of our pages, the process of having those reviews appear on my website was a munual one. I would have to copy the content (text and photos) from the e-mails generated by the forms, paste them into a webpage, then upload that webpage to my website. While this was ok during slow times, when times got busy, there would be some delays in me getting around to performing the manual work. Now thanks to some software upgrades by my web hosting company, much of this work is automated.
Now when you complete a form to send your hotel, restaurant, tour or other review or you share a travel story with us, all that I will need to do is approve your submission before the content you shared appears live on its own webpage on my site. A link to your review or travel story will also appear on the review or story submission page. During the process of submitting your review or travel story, you will also have the opportunity to attach up to 4 photos that can add visual appeal to your submission. You will also have the option of choosing to be notified when your submission is approved and live on the website. You will then be able to share this link with your friends and family so they can add their comments and rate your review or travel story. Yes, that's right, once your submission is live, visitors to the site will be able to add their comments and rate your submission using a star rating system.
Anxious to try this out? Visit the following pages to send me your review or travel story today.
Apartment, Guest House or Bed and Breakfast Reviews
I am also trying out the feature noted above on my guestbook page, since I had to remove the previous guestbook after it was flooded with spam. Other enhancements to the websites include the inclusion of larger and in some instances updated photos on the pages and the addition of photo slideshows on pages with multiple smaller sized photos. A horizontal menu has also been added to the top right hand corner of the website header image to provide you with quick and easy access to some key pages. Another enhancement is the Google custom search box that has been added to the website pages. This custom search engine allows you to search through the pages on the website by entering your search term in the search box. Now that I have updated you on the enhancements that were implemented during the site redesign, I will keep you updated via this medium as other improvements are implemented.
New Pages
The following pages are the most recent additions to the web site:
St Kitts and Nevis Real Estate Guide - An informative and no nonsense guide to St Kitts and Nevis real estate. Complete with info about the St Kitts real estate market, who can buy St Kitts and Nevis property, the buying process and real estate closing costs plus much more. Check it out today!


How Green are Cruises to the Caribbean? - An article about green cruises by freelance writer Laura McCann. In the article Laura looks at cruises to the Caribbean and highlights the green initiatives taken by major cruise lines that offer cruises to the islands.


In Tune with St. Kitts and Nevis
End of Tourism High Season
The 2012 - 2013 tourism high season has ended and businesses operating in the tourism sector are now getting ready to implement their plans for the upcoming season. During this slow season, many hotels and restaurants take the opportunity to undertake upgrades in preparation for when business picks up again later in the year. Some restaurants will close for part of the slow season, so if you plan on eating out, you may wish to call ahead to find out if they are open.
On the cruise side of things, April 26 marked the end of the cruise ship high season. Three ships namely Carnival Valor, Grandeur of the Seas and Maasdam docked on that day, a fitting end to the season some may say. From May through the end of September the only cruise ships that will be making port calls are Carnival Valor and Royal Caribbean Cruise Line Jewel of The Seas. Carnival Valor will make weekly cruise calls on Fridays, docking from 8am until 6pm. Jewel of the Seas will make one call during the last week of May and 3 calls a month from June through September, docking on Tuesdays from 8am - 5pm.
20th Anniversary of Agriculture Department Open Day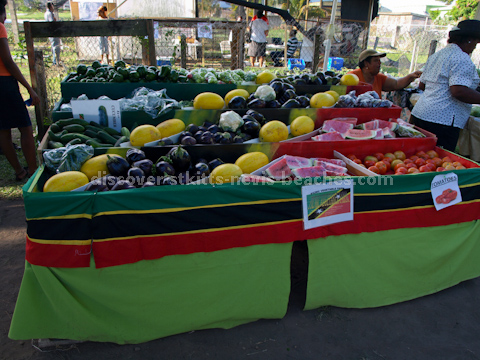 The Department of Agriculture in St. Kitts recently celebrated the 20th Anniversary of hosting their Open Day. The event was held on April 25th and 26th at the Department's facilities at La Guerite under the theme "Embrace the Change, Face the Challenge, Maximize the Opportunities". The two day agriclutural exhibition drew large crowds of adults and children who visited to view the vegetable and fruit crops, livestock and fishery produce, aquaculture pond, small and large ruminants, pigs, rabbits, chickens, ducks, geese, guinea hens, peacocks and peahens, ornamental plant and floral displays, green house farming demonstration, local agro-processed goods and information booths for the agricultural support institutions. Photos taken at the 20th Agriculture Open Day are highlighted in the Featured Photos section of this issue.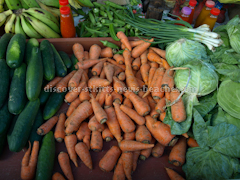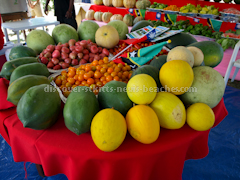 Upcoming Events
Free Concert at Independence Square
The Okolo Tegremantine Arts Theatre celebrates its 40th Anniversary this year. As part of the activities organized to celebrate this milestone, the group will be hosting a Free Concert at 4 p.m. on Friday May 24, 2013 at Independence Square. The event which will feature drums and horns with poetry, dance, chants, reggae and calypso is being organised in collaboration with the Legends Band. The Okolo Tegremantine Arts Theatre is the result of the merger of the Okolo Drummers and Tegremantine Dancers.
ICCS Grand Dinner and Auction
June 8, 2013 is the date set for the second ICCS Grand Dinner and Auction. This fundraiser which will benefit the students of the Immaculate Conception Catholic School will be held at the St. Kitts Marriott Ballroom from 6:30pm - 10:30pm. The cost of the tickets is EC$150.00 (US$1 = EC$2.70). Tickets for the event are available at Harper's Office Depot Tel: (869)465-6500 and ICCS Office Tel: (869)465-3219. The Immaculate Conception Catholic School (ICCS) is the resulting institution of the merger of the St. Theresa's Convent School (my alma mater) and the St. Joseph's School.
2013 St. Kitts Music Festival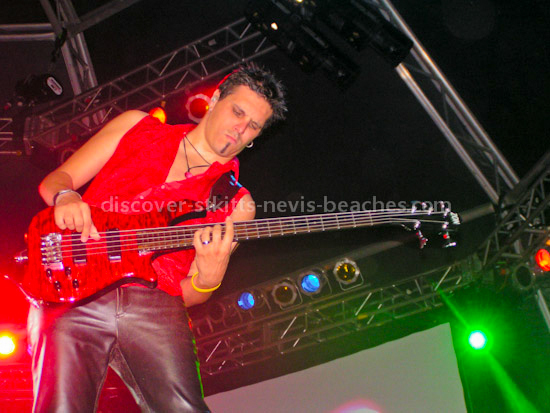 The 17th edition of the St. Kitts Music Festival will be held from Thursday June 27th to Saturday June 29th, 2013 at Warner Park. Started in 1996, this annual summer festival showcases different genres of music and is consided by many to be the most diverse and popular musical event of its kind in the Caribbean. Past performers have included such celebrity artists as Kenny Rogers, Michael Bolton, Brian Mc Knight, Peobo Bryson, John Legend, Shaggy, Wyclef Jean, Yolanda Adams, KC & Jo Jo, Kool and the Gang, Dionne Warwick, Boys ll Men, Atlantic Starr, James Ingram, Percy Sledge, The Manhattans, Morgan Herritage, Arrow, Sparrow and many others. Local acts have included Masud Sadiki, The Grand Masters Band, NuVybes Band, Small Axe Band among others.
Headlining this year's event will be legendary singer and songwriter Lionel Richie. The line up for the 2013 St. Kitts Music Festival is as follows:
Thursday June 27, 2013
The Small Axe Band, The Kore Band, Nu Vybes Band International, Bunji Garlin, Faye- Ann Lyons, Super Blue and Grand Masters
Friday June 28, 2013
Dagah, Dejour, Charles Emanuel, Tesanne Chin, Konshens, Shaggy and Beres Hammond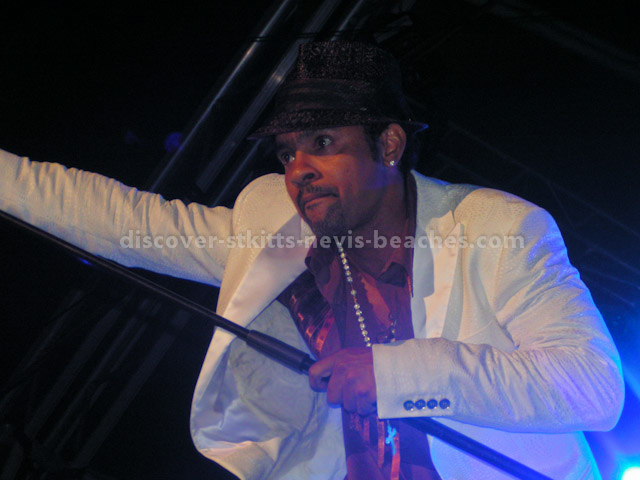 Saturday June 29, 2013
Cayon Pantastics, Andy Narell featuring Relator with special guest Etienne Charles and Lionel Richie
Nevis Culturama Festival 2013
Save the date! This year's Nevis Culturama Festival will take place from July 25 to August 6, 2013. More infomation will be forthcoming in a future issue of the St Kitts and Nevis Beach Buzz.
Featured Photos
2013 St Kitts Agriculture Open Day:
Some Photo Highlights
In this month's featured photos, we highlight the 2013 St Kitts Agriculture Open Day. This year marked the 20th anniversary of the hosting of this event. The complete album can be viewed here.
Click to view a gallery with larger versions of the photos